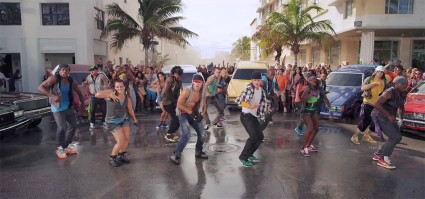 Yes, it's time for another entry in the Step Up franchise, and who ever thought they'd make it to a fourth film? Under director Adam Shankman, Step Up 3D took the dance movies to a new height and pushed 3D technology to its limits … except no one went to see it. Yes, the story was lame and the "acting" wasn't much better, but it still showcased some thrilling dance routines and the 3D was put to its best use. Against all odds, Step Up Revolution (or Step Up 4, or Step Up: Miami Heat, or any combination of those titles) has made its way into theaters and … it's pretty good!
Unlike the previous film, Step Up Revolution actually has a story — An ethnic Miami neighborhood is about to be demolished so a luxury living and shopping complex can be built. A group of locals calling themselves The Mob (they specialize in really elaborate flash mobs) are trying to get enough hits on some video service like YouTube to earn $100,000, but when they find out about the development, they put their dancing to good use to fight the power. But there's a road block. Lead dancer Sean (Ryan Guzman) has fallen for Emily (Kathryn McCormick), who just happens to be the developer's daughter. Sean hides her identity from the group, but when they find out, the truth threatens to tear them apart.
It's not Shakespeare, but for a dance movie it's a pretty decent plot that strives to entertain, but wants to add a little social commentary as well. I think they succeeded. It helps too that the film has a very engaging and attractive cast. Ryan Guzman really carries the film, and has no trouble conveying all of the different emotions that Sean has to deal with throughout the film. And it's his first movie! (He's much better than Step Up 3D lead Rick Malambri.) Best of all, you actually get to see him dance and not hiding in the background (like Rick Malambri did). With the right projects, this kid could be a star. He's got some great support from Misha Gabriel Hamilton as his best friend Eddy, even when the two eventually butt heads over Emily. And then there's Kathryn McCormick, best known as the third place, season 6 So You Think You Can Dance hopeful. She starts off a little shaky, almost reminding me of the emotionless Kristin Stewart, but she thaws a bit in the Miami sunshine, especially after she joins The Mob. She's really lucky to have Guzman to support her. Peter Gallagher also shows up as Emily's dad, and his presence really brings some weight to the story. The cast is rounded out by a collection of talented dancers, including a lot of familiar faces from So You Think You Can Dance, including Stephen Boss (aka tWitch) reprising his role from Step Up 3D (and how he got from New York to Miami is left to our imagination), and choreographers Mia Michaels and Christopher Scott. And there's also a surprise cameo from another Step Up 3D cast member that was a real audience pleaser.
Of course, what the movie is really about is the dancing, and the dancing is spectacular. I think there were more epic numbers in Step Up 3D due to the nature of the story (dance battles), but the flash mob concept lends itself to incorporating more of the group into each number and applies the 3D effects to great use, particularly as money drifts down from above in one number. The opening scene on South Beach's Ocean Drive is a spectacular combination of choreographed dancers and cars. Totally awesome. The climactic number has to be seen to be believed, and you really want to stand up and applaud after every number. There is one unfortunate intro to a protest dance that begins with smoke canisters being tossed into a crowd by gas mask-wearing dancers that might make some people cringe at this moment in time, but it thankfully goes by quick enough so that image doesn't linger for the rest of the movie.
I wasn't really expecting much from Step Up Revolution after the last film, but the focus on the story and the dancing as equally important, plus the engaging cast really sets this one apart (and I have to give a shout out to Karsten Gopinath for some really spectacular cinematography). If you're just looking for an escape from the summer heat or simply enjoy the art of the dance, I highly recommend Step Up Revolution.
[easyazon-image align="none" asin="B007JNR4XW" locale="us" height="160″ src="http://ecx.images-amazon.com/images/I/51D9XeNE5ML._SL160_.jpg" width="120″] [easyazon-image align="none" asin="B0017TWUZG" locale="us" height="160″ src="http://ecx.images-amazon.com/images/I/61Yp3NtHuHL._SL160_.jpg" width="122″] [easyazon-image align="none" asin="B004529NLG" locale="us" height="160″ src="http://ecx.images-amazon.com/images/I/61jpL0s5FhL._SL160_.jpg" width="124″]
Photo Credit: Summit Entertainment