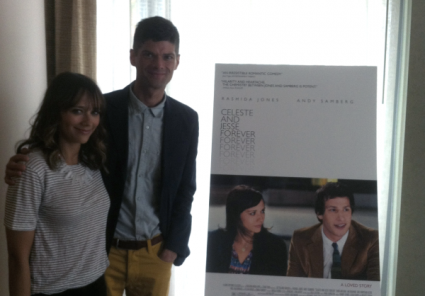 I recently had a chance to sit down with the writers (and stars) of the new movie Celeste and Jesse Forever (read my review Friday), Rashida Jones and Will McCormack, while they were in DC doing press. After a bit of pleasant talk about the classic awful DC weather, we spoke about their difficulties in crafting original characters and how it connected to their own experiences.
So first, about the way the story progresses…
Rashida Jones & Will McCormack (almost simultaneously): Yeah.
You have the characters sort of going through ups and downs. Was that always an important part of the story?
RJ: Yeah, the most important part.
WM: Yeah, I think so. I mean, we want the movie to be funny and we want people to enjoy it, but we wanted to be really honest about heartache. We didn't want to be ironic or satirical about the heartache of it, we wanted to be as honest about as we could. And know that it's really hard to go through a breakup and it requires a lot of compassion and forgiveness and understanding and love — it's not black and white, there's lots of shades of grey. And it's [also] timing and it's really, really complicated, so we tried to be as honest and as nuanced and as realistic as we could about the subject that is hard for people. Breakups are hard — you think your whole life is gonna go one way and it doesn't. And that's hard to accept, you know? So at that part we just tried to be really as honest as we could.
Sometimes in romantic comedies you have really an antagonist type of character, whether or not it's one of the "this person just made a mistake or they have to redeem themselves."
RJ: Right, right.
Or it's another love interest, an outsider. I didn't really see that in this movie — it seemed like everyone was good and bad or you didn't really see much of them at all.
RJ: I take that as a compliment, because we really tried to balance all the characters. I personally really — I'm allergic to movies where you can say, "Oh, there's the bad guy." So great, now we know what to expect from that guy, and he's going to just be like a thing, or a placeholder in the plot. And I think every character [in the movie] has an element of surprise. For example, you meet Paul [played by Chris Messina] and you think he's this lascivious asshole, and then you learn more about him and he's not. And you meet Riley [played by Emma Roberts] and you think she's this airhead pop star, and she's not — she has a lot of wisdom. Everybody has an element of surprise —
WM: Yeah.
RJ: To me, I want to see movies where what I think is going to happen — the opposite happens!
WM: Yeah, we did our best to surprise people. I mean screenplays are hard, because with auxiliary characters you don't have a lot of real estate. With a character like Riley or Scott [played by Elijah Wood] you only have like four scenes. This screenplay is 103 pages, so with those characters, you only have like 10 or 11 pages and how do you make them interesting and layered and nuanced? It's tricky.
RJ: And have an arc, and you have so much to do.
WM: Yeah, so how do you give this person an arc in four scenes? But we tried to do our best with all the supporting characters and not just make them stock. And for the most part I think we did a pretty good job. But it's challenging, screenwriting is challenging in that way.
One last question. After you've come together and finally after all this time managed to make something together, are you planning to collaborate in the future?
RJ: Yes, we are.
WM: Yes, we are.
RJ: We just finished a script for Universal. I co-wrote a comic book a couple years ago called Frenemy of the State and Will and I just adapted it for Universal, so we'll see if that happens, because you never know.
WM: And we wrote a [television] pilot, and we're waiting to hear about it. But we're going to write another movie, but we're going to take our time.
RJ: We want to do something that's a totally different genre, because we feel we've said everything we think we could about the inverted romantic comedy, so we're going to tackle something else.
WM: We get offered a lot of romantic comedies and we feel like "we did them, we're done." I want to write about parents.
RJ: Yeah. We want to write about parents. Families.
WM: We love parenthood — we want to get into that.
Thank you for your time.
RJ: Nice to meet you.
And I hope you had a good time in DC.
WM: Yeah, thanks.
[easyazon-image align="none" asin="B001PR0Y76″ locale="us" height="160″ src="http://ecx.images-amazon.com/images/I/51fVV2Loh5L._SL160_.jpg" width="127″][easyazon-image align="none" asin="B004UXUWKG" locale="us" height="160″ src="http://ecx.images-amazon.com/images/I/61jitky8Q1L._SL160_.jpg" width="124″][easyazon-image align="none" asin="B006JTS5OO" locale="us" height="160″ src="http://ecx.images-amazon.com/images/I/61Ejgtqt3qL._SL160_.jpg" width="127″][easyazon-image align="none" asin="B008JFUTZY" locale="us" height="160″ src="http://ecx.images-amazon.com/images/I/51OtmrgoQBL._SL160_.jpg" width="109″]
Photo Credit: Jeremy Fogelman