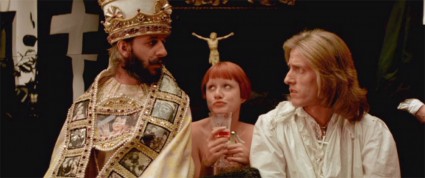 Sadly, I've not seen many Ken Russell films, and the ones I have seen have been rather hit-or-miss: Altered States, The Lair of the White Worm, Gothic to name a few. These later Russell films were interesting, but the early Russell films seem to be more up my alley now that I've had a chance to witness the madness that is Lisztomania. Words cannot being to describe this movie, now available on DVD from the Warner Archives Collection, but I will try my best to give you a brief idea of what to expect.
If you don't know, the film is a "biography" (in the loosest sense of the word) of the classical composer Franz Liszt, a musician who many refer to as the world's first rock star due to his fan following and groupies who purportedly threw their undergarments at him while he was on stage … a hundred-plus years before Tom Jones! True or not, the legend certainly lays the foundation for a great movie. In Russell's version of Liszt's life, he begins an affair with with Countess D'Agoult (Fiona Lewis), much to the dismay of her husband whom she leaves behind, they have three children but the life of a responsible man blocks Liszt's creativity. So what to do than hit the road again, bed a few more women and get the creative juices flowing. Liszt (Roger Daltry) ends up with Princess Carolyn of Russia (Sarah Kestleman), who awaits a divorce from the Catholic church so she can take Liszt back to Russia and live happily ever after. But Liszt is also dogged by composer Richard Wagner (Paul Nicholas), Liszt's protege who also wants to channel Liszt's talent and popularity to take over the world. Literally. And this is where things start to go really crazy … as if the musical number with the giant penis wasn't enough. Wagner goes from war refugee to vampire to Nazi Frankenstein monster over the course of the movie, and you just have to wonder what kind of drugs Ken Russell was taking at the time. One thing's for sure, the movie is never boring.
After watching Lisztomania, I can definitely see where Baz Luhrmann got some of his ideas for Moulin Rouge. The storytelling there is a bit more linear, but the visual excess of that film goes right back to Russell. The film features some huge sets, lavish costumes, colorful lighting (including an economical, yet nifty solar eclipse), and an interesting score by Rick Wakeman (who also has a cameo as a very familiar looking Nordic god that screams "copyright infringement") that combines the music of Liszt and Wagner with some catchy pop/rock tunes as well. And speaking of the music, historically, Lisztomania was the first movie to use the Dolby Stereo process for sound recording which is rendered nicely on Warner's DVD as a Dolby Digital 2.0 audio track (I actually listened to it process through a 7.1 surround system and the music and dialogue were nicely balanced with some directional effects applied to some of the off-screen and off-center voices). For a film of this vintage, the folks at Warner Brothers have done a nice job with the print, keeping the colors vibrant, and the print itself is pretty much in great shape save for a little speckling at the very beginning. You couldn't really ask for a better presentation on DVD, but for a film that was released the same year as The Rocky Horror Picture Show and deserves the same kind of cultish adoration (and yes, that is Columbia herself in the picture above), this one really cries out for a high-def Blu-ray release to really bring the colors and sound even more boldly to life. Perhaps the success of the Archive Collection manufacture on demand DVD will kick a proper HD restoration into gear.
I've said it before, and I'll say it again — the folks at Warner Brothers have done a magnificent job of rescuing another movie that may have fallen by the wayside with the Archive Collection, and after watching Lisztomania I am more than eager to take on more of Russell's earlier works including The Boy Friend, which is another Archive Collection release. Hopefully they'll get around to releasing Russell's The Devils next. That's been on my wish list of movies to see for quite some time (hint, hint).
This review is based on a retail copy of the DVD provided to CliqueClack by the Warner Archives Collection.
Photo Credit: Warner Brothers