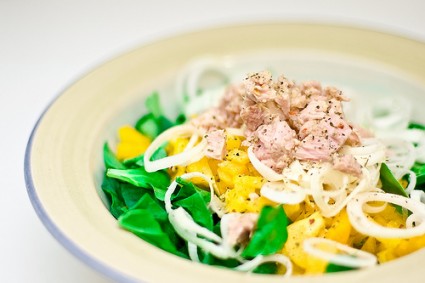 Cooking healthy is hard, right? We know that whole foods are the answer, not convenience foods that come in a box. Let's face it — preparing meals from scratch can be a total drag, especially during the witching hour when the kids are tired and clingy and you're on your last shred of patience.
It doesn't have to be another ill-timed chore to put a healthy dinner on the table. Try these time-saving ideas for getting that whole food meal prepared — fast. They are tried-and-true in our household, and you are taking advice from someone who is making orange roughy with fruit salsa and roasted Brussels sprouts tomorrow night, and a butternut squash, sage and prosciutto pizza (with homemade pizza dough for the crust) later this week. It can be done.
Cook grains, pastas and legumes ahead of time and freeze in appropriate serving sizes. You'll always have them recipe ready.
Keep bags of organic frozen veggies on hand to quickly add to stir-fries and pastas.
Cook a double serving every time you make a meal and pop the other serving in the freezer for next week.
Use your slow cooker; not all crock pot recipes are unhealthy casseroles based on canned soup, and you can prepare these earlier in the day. Have you tried my crock pot chili recipe yet?
Chop your ingredients ahead of time so you only have to throw the meal together just before serving.
Always serve a salad. It takes no time at all to chop a little lettuce and toss in your favorite veggies.
Buy your naturally-raised meats and poultry in bulk, trim ahead of time, and freeze in meal-sized portions.
Now all you need to do is invest in a freezer and you'll be on your way to easy, healthy meals. What are your time-saving tricks for cooking fast and healthy?
Portions of this post were previously published by me on That's Fit.
Photo Credit: kozumel / Flickr