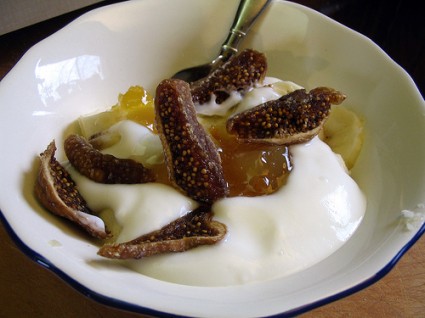 You'll never open the refrigerator in our house and find it void of organic, plain, whole milk yogurt. This is a staple in our house, for more than just your typical yogurt uses. Yeah, I still purport that eating it from the 32-ounce container with a big spoon when no one is looking is probably the best way to enjoy this creamy treat, but we use our yogurt in countless ways throughout the week.
Did I make it clear that I mean organic, plain, whole milk yogurt? I'm not talking about that sweetened crap that renders pure yogurt inedible, and if you're going to eat it with fruit, stir your own in for crying out loud. So go get yourself a 32-ounce container of organic, plain, whole milk yogurt and start using it:
Breakfasty yogurt goodness
1. Stir in your favorite berries or diced fruit and a swirl of honey or agave syrup (if you need it). Raspberries and a little raw honey with a medium-sized dollop of yogurt is perfection, but you'll love any berry, cherries, peaches, figs, or banana (well, you would).
2. No fresh or frozen fruit in the house? Try the same with some all-fruit preserves.
3. Make a granola berry parfait: layer yogurt, berries (fresh or frozen) and granola (we like Nature's Path HempPlus) in a glass bowl.
4. Use yogurt for protein, digestibility and moistness in muffins. Just substitute all or part of the butter or oil in your recipe with your plain yogurt, or some of the milk if your recipe calls for that.
5. Make our Rookie Cook's  smoothie recipe. My favorite fruit combination for a smoothie is mango and cherry.
6. Honeyed walnuts with yogurt is a high-protein, easy to prepare breakfast, but perhaps not quite as easy as yogurt + jam + nuts.
Dessert-y yogurt goodness
7. Greek yogurt, a strained, thick, rich version of plain yogurt, makes a lovely dessert. Can you imagine Greek yogurt with hazelnut agave syrup and shaved dark chocolate? Oh yeah….
8. Use that same Greek yogurt, if you will, and enjoy Brandied strawberries and Greek yogurt for dessert.
*** We now interrupt this post with an embarrassing confession from its author: I totally just got up, went to the fridge and shoved a giant spoon into the open container of yogurt. Then I ate some. It was good, very good. In fact, if you scrape the sides of a nearly empty container, you'll find some yogurt cheese… yummmmm…. ***
9. Fried bananas and yogurt, accented with cardamom — yum! If you embrace the vegan life, go ahead and use that soy yogurt that the recipe recommends. To actually make a dessert that tastes good, go for my beloved organic, whole milk plain yogurt.
10. A yogurt cake? Really? You bet, complete with a lemon syrup, pistachios, strawberries and whipped cream.
11. Make frozen yogurt. We've made this Heidi Swanson recipe and it is so rich and delicious. I recommend cutting the amount of sugar way back, but it's divine.
12. Top apple crisp, or any dessert. It's better for you than whipped cream, and helps to cut the sweetness of a sugary dessert too.
13. Replace heavy cream in truffles with yogurt. Hey, why not insert a little digestibility and nutrition into a decadent dessert? You won't notice the substitution.
Savory yogurt goodness
14. Replace mayonnaise with yogurt, anywhere, anytime. Mayonnaise is an abhorrent life form and should not exist in its current jarred state (but talk to me about a quality homemade aioli — a whole different beast). Make your dips, tartar sauce and cole slaw instantly edible — use yogurt! Heck, I even made deviled eggs for Owen today using yogurt.
15. Oh, you need a dip recipe, you say? Try mixing some of Trader Joe's 21 Seasoning Salute (or any salt-free seasoning blend) into your yogurt, to taste. It's just perfect!
16. Serve yogurt as a condiment with Greek and Indian food; mix with cucumber chunks and fresh mint.
17. Use yogurt instead of heavy cream in sauces, just prepare it first using this technique to stabilize yogurt for cooking.
18. Try the last recipe on this page, for dilled salmon with yogurt cheese. See, now I've got yogurt cheese on the brain….
19. Make braised lamb shanks in yogurt sauce and impress your friends.
What's your favorite way yo use plain yogurt?
Photo Credit: Dan Zen / Flickr