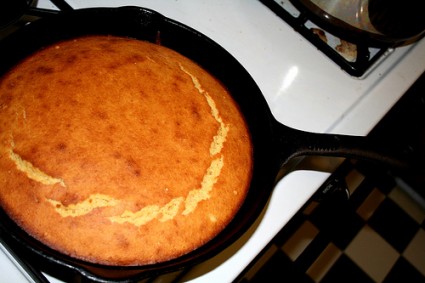 The other day as I was perusing the isles at the Wal-mart, I spied a package of corn bread mix and thought that sounded good. I have not had good corn bread for a while. I had some left over Manwich Spaghetti and decided to have the corn bread with it.
I got home, put the groceries away, mixed up the corn bread and tossed it in the oven. When the corn bread was done, I heated up the spaghetti and set down for dinner. That corn bread tasted like sand. The only resemblance it had to corn bread was it was mostly yellow. I gave Bo a piece and he wolfed it down. About a minute later he gagged a couple times and puked it back up on my shoes. Then he growled at me and ran in the bedroom. I ate my spaghetti and tossed the corn bread in the trash. I hate to waste food, but I didn't feel too bad 'cause that shit was not food.
So today I was going through some stuff and came across a recipe that my mom had for old-fashioned corn bread. I do not know where mom got the recipe, but it does say it is a 200-year-old recipe. Just reading the recipe brought back so many fond memories. I can still remember the smell of that corn bread baking in the oven, and the look of shock on my sister's face when she asked me to pass her the butter and I threw it at her. I remember Mom and Dad trying so hard not to laugh as they yelled at me for throwing the butter at my sister, as I explained that she asked me to PASS it to her. It was not my fault she didn't catch it. Oh those were fun times.
Old-Fashioned Corn Bread
Ingredients:
1 cup corn meal
1/2 tsp Salt
1 egg
1 cup buttermilk
1/2 tsp baking soda
3 Tbsp melted shortening or bacon drippings; Come on, do I really have to tell you which one I used?
Do not sift the corn meal. Mix all the ingredients together and bake in a greased pan or skillet at 400 degrees for 35 to 40 minutes.
This is such a simple recipe and yet it tastes so good. The recipe says it will serve four, but not if I am one of the four.
Photo Credit: amy_b / Flickr