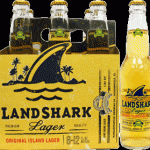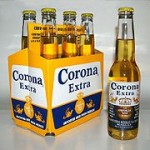 I've already mentioned before that I used to be a Parrothead. For those who don't know, that's dork talk for "fan of Jimmy Buffett." During that time, I remember Buffett had a relationship with Barton Beers Ltd. (or, more specifically, Corona Beer). He was very vocal about the beer and even sang a commercial for them (though what the heck is he talking about "made to order?" Pretty sure they're all made well ahead of time, Jimmy. But what to rhyme with "border?")
I'd heard of Land Shark beer before, but for some reason it didn't dawn on me until this past weekend, when I tried a bottle, that it donned the Margaritaville™ Brewing Co. label — Jimmy Buffett's company. What's more, it's clearly a direct competitor to Corona. Looks like someone had a bad breakup.
The real question: how do the two beers stack up to one another? Seeing as there was a supply of Corona, nearby, chilled and ready to go, I was determined to find out.
First of all, let me say that I believe there's always a time for a Corona … or at least a Corona-like beer. Sure, it's on the light side, which is something I usually don't care for, but I guess you could say Corona is a state of mind thing. You've got to drink it right from the bottle. Squeeze a wedge of lime in there, and you could be in the New Hampshire mountains in February and still imagine you're on a tropical island. Other people I know would just call it skunk piss.
Land Shark fits the Corona-like beer bill perfectly. Actually, it fits it better than perfectly, because it is much better. Let's not get into how they look or smell, or what size head they give when you pour them; they're the same, and who really cares? It's the taste that matters, and Land Shark has something to it that gives it several notches above Corona.
For one thing, Land Shark has a sweetness to it that's not found in Corona, though it's not at all overpowering — just enough to make it stand out; the flavor is akin to artificial lemon (I know, "how … appetizing," but it works.) Both beers seem to use the same kind of hops, so there's definitely that familiar flavor there. There's also something about a Corona that, after a couple, seems to dry out my mouth, so of course that leads to needing something to quench my thirst … another Corona! Not so with Land Shark, though I wanted another just because it was much tastier.
My Parrothead membership may have expired, but I'll still reach for a Land Shark Lager if I'm in the mood for wasting away in Margaritaville for a little while.
Photo Credit: Baron Beers Ltd. / Margaritaville Brewing Co.