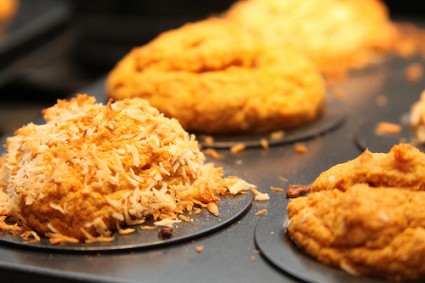 When I say orange, I mean the color. The four-year-old and I wanted to make orange-colored muffins befitting of our jack-o-lantern muffin pans. We (read: me) also didn't want to use chemical food coloring in the batter or the frosting, so we came up with pumpkin carrot muffins. If you were jazzed by the idea of orange-flavored muffins, don't worry, we've got a variation just for you.
We're about to serve these to, you know, normal kids at a little Halloween get-together we're having in a few minutes, so I'm coming back to report how they fared with kids who weren't raised on bizarre vegetable-filled muffins with natural sweeteners. Consider the experiment underway!
I won't lie — the muffins were a huge hit for one and all. There was even one crafty little three-year-old who ate the rest of someone else's muffin when she was playing out of visual contact with said muffin, and still he kept begging for more. Now, if a room full of kids, ranging from two to five-and-a-half (and their moms) can enjoy these muffins, I think we have our control group, folks. And our target audience. Which would be everyone. Did you get that?
Pumpkin Carrot Muffins

Print This Recipe
Ingredients:
1 3/4 cup flour (I used sprouted spelt flour)
2 teaspoons baking powder
1/4 teaspoon salt
1 teaspoon ground cinnamon
1/4 teaspoon nutmeg
1 egg, lightly beaten
1/4 cup agave syrup
1 cup cooked pumpkin / carrot puree (I cooked chunks in the microwave and then food-processed them)
1/2 cup milk (I used unsweetened vanilla almond milk, my go-to)
1/3 cup rice bran oil, or your favorite cooking oil or melted butter
shredded unsweetened coconut, optional
Combine dry ingredients and spices in a large bowl, and combine wet in another bowl. Add wet to dry and mix until just combined. Fill 12 greased muffin tins with batter and sprinkle with coconut if desired (that was Owen's way of making the ghost muffins look white!). Bake at 400 degrees for about 18 minutes.
Variations:
Use orange juice instead of milk and add 1 teaspoon orange zest and you'll get the orange flavor you're craving.
Add small chunks of apple. You can't lose with all the cinnamon and nutmeg in this recipe.
Frost with your favorite cream cheese frosting. It would make some pretty, white ghosts.
Or, make a streusel-type topping with cinnamon, butter, brown sugar and a little flour. Combine in your favorite ratio to make coarse crumbs.
Are you brave enough to serve a healthy treat on Halloween?
Photo Credit: Debbie McDuffee