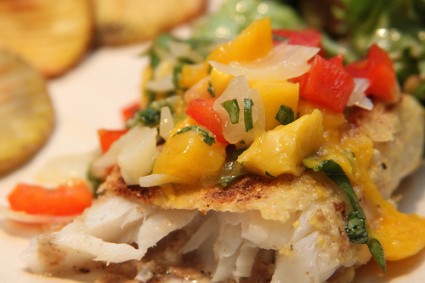 Join Debbie as she raves about whole foods, rants about chemicals and generally celebrates cooking and eating with fresh, local, nutritious foods. And sometimes she might get a little feisty….
In an attempt to eat a somewhat lighter meal than we've been indulging in this winter vacation, we cooked fish the other night. To be honest, I wasn't all that jazzed up about it. I definitely could have wrapped my taste buds around a comforting stew with my mesclun salad and been very satisfied. Instead, I got a slab of fish.
It ended up to be a very delicious slab of fish (and pretty too), but still. I'm just a little resentful that fish found its way to my plate after all of the luscious stews and roasts and beef tenderloins (yes, there was even a Wellington in there, my friends). The fish was very simple to prepare and quite satisfying if you can lose the bad attitude and enjoy it for what it is: lighter fare that should probably be on your plate anyway.
Alaskan Cod and Mango Salsa

Print This Recipe
Ingredients for the fish:
Alaskan cod (very different and much yummier than Atlantic cod)
flour of your choice seasoned with salt and pepper
1 egg, beaten
corn meal
This is the famous Steve Degon double-dip … are you ready? Pat the fish dry and dip it in the flour, then dredge in the egg, then dip in the corn meal. Saute in a pan until browned and done. Yes, you can use your sprouted spelt flour and pink mineral salt and organic corn meal, so that your recipe is worthy of a Fresh Foodie recipe.
Meanwhile….
Ingredients for the salsa:
1 cup mango chunks, diced
1/2 onion, diced and microwaved for a minute or two in a little olive oil to take the edge off
about 1/4 cup fresh basil, chiffonade style
1/2 red pepper, diced
lemon juice to taste
freshly ground black pepper to taste
What can I say? It's what we had in the house and it worked. You could also try the crunchy mango salsa recipe I devised some time ago, which has snap peas and other yummies in it.
I didn't get my hearty stew, but I did get a delightful, spur-of-the-moment fish and my gourmet musclun salad, so all was not lost. Oh, and the kid got his potatoes (Owen's living up to his last name with the whole potato-obsession thing he's got going). We recently bought a new mandoline (which we love!) that makes crinkle cuts, so we sliced thick chips and oven-roasted them at 400 degrees convection roast for about 20 minutes or so.
I suppose as we detox from the holidays and get back on the healthy bandwagon that lighter food is inevitable. And as soon as the weather warms, I'll embrace it, but for right now, I want me some beef stew!
Photo Credit: Keith McDuffee