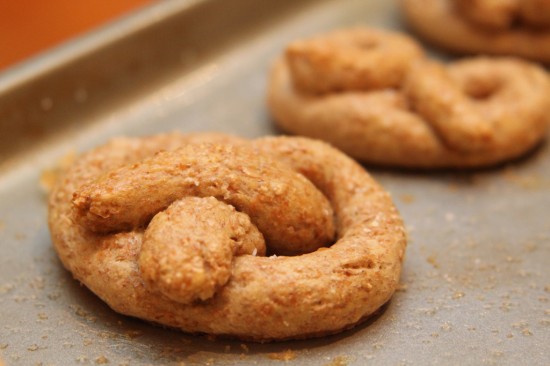 Just picture this: Seven children up to their elbows in pretzel dough, creating strange and deviant-shaped pretzels and loving every minute of it. That was my Saturday night when it was our turn to host the monthly parents' night out for our moms' group.
Contrary to my fraught-with-procrastination personality, I actually prepared for this ahead of time. It was a good thing too, because the plan was to make chocolate pretzels. Mothering, you've let me way, way down because this recipe was useless. The dough never became dough and we ended up tossing it and finding another easy homemade pretzel recipe that was perfect. Perhaps it was the lack of yeast that made the chocolate pretzels one giant fail but there was no way that dough would roll into snakes to shape into pretzels.
Regular pretzels worked amazingly well and it was fun to see the difference between regular flour and the spelt dough we used for Owen. They both came out perfect but very different. One thing they had in common was their addictiveness: we were making another batch less than 24 hours later.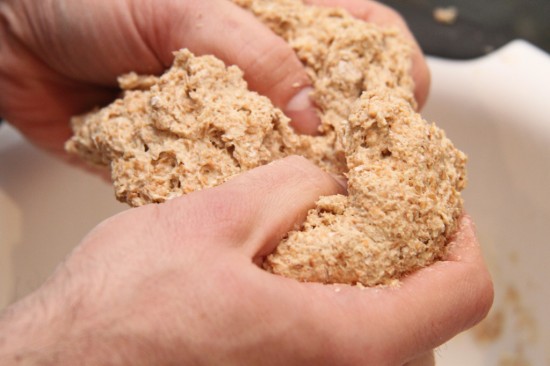 Spelt Pretzels

Print This Recipe
Ingredients:
1 1/8 teaspoons yeast
3/4 cup warm water
1/2 teaspoon of salt
1/2 tablespoon of sugar
2 cups + 2 tablespoons of sprouted spelt flour (or regular)
1 egg, beaten
sea salt or kosher salt
Preheat oven to 350º.
Measure warm water into a large bowl. Sprinkle on yeast and stir until soft. Add salt, sugar, and flour. Mix and knead dough with hands. Roll and twist into any desired shapes. Place on greased cookie sheet. Brush with beaten egg. Sprinkle with salt. Bake 12-15 minutes.
Tricks and tips:
When you paint on the egg, be generous. Although these won't get super-browned (the regular flour version didn't either), the egg does help.
Also don't be shy with the salt. We were with the first batch and they really needed more. The second batch was perfect.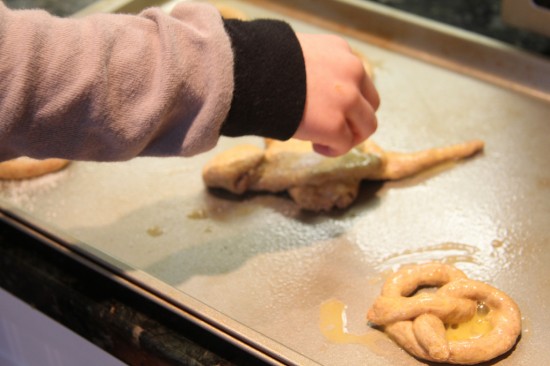 It was seriously fun to make these pretzels and the instant gratification with the yeast product was something that spoke to my heart.
Photo Credit: Debbie McDuffee