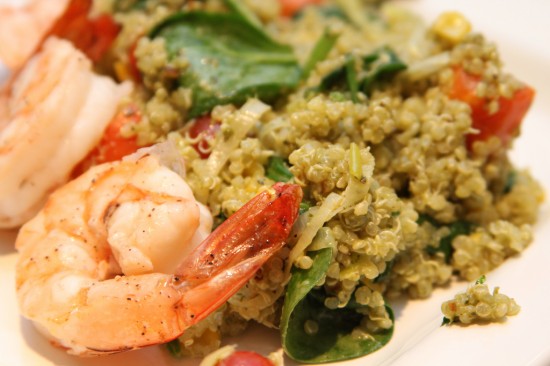 Spring has sprung and my palate has finally lightened up. Yes, I'm ready to say goodbye to my comfort food until the fall brings the chill once again. Stews and soups are fading out, salads and grill meals are taking the stage.
There's something lovely about the way baby spinach transcends all seasons for me. I was able to stir it into soups and stews all winter long, or serve hot fare over a bed of baby spinach. Now, mixing it into salads, and in this case, a quinoa dish, works just as well. If you're the five-year-old, shoving handfuls into your mouth straight from the fridge works, but my tastes require something only slightly more sophisticated.
Adding pesto to cooked quinoa is a neat trick we use often in my house, because it's easy and really flavorful. I chose sliced leeks instead of onions for a change, and the corn adds a sweetness to this dish that your taste buds won't want to miss. I was really happy with the way this simple creation turned out, and it went fabulously with some shrimp broiled with lemon juice.
Pesto Quinoa with corn and baby Spinach

Print This Recipe
Ingredients:
1.5 cups dry quinoa
3 cups water
1/2 cup grape tomatoes, halved
1/3 cup pesto
1 red pepper, chopped
2 cups corn
3 large handfuls baby spinach
1 leek, sliced
3 tablespoons lemon juice
salt and freshly ground black pepper to taste
Add water and quinoa to a medium pot and bring to a boil. Turn down heat, cover and simmer until water is absorbed, about 15 minutes.
Meanwhile, saute leeks and red pepper in a bit of olive oil until the leeks start to fall apart and the pepper is tender. Add corn and heat through. Remove from heat and add the cooked quinoa, pesto and lemon juice, and mix thoroughly. Toss in tomatoes and spinach, season and serve.
Photo Credit: Debbie McDuffee