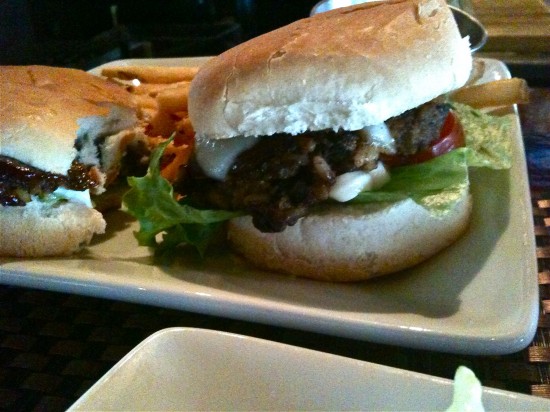 I'm like a battered wife when it comes to the Ruby Tuesday veggie burger. We had so many good times. I can so vividly recall some of our happiest days; days filled with food, and friends, and laughter, that it's difficult for me to reconcile it with the cruel bastard that it has become. So I keep on going back. I know he hasn't changed; the menu still has the haunting phrase, "made with rice and black beans," yet I am incapable of staying away.
If you'll recall, the day that I had the new Ruby Tuesday veggie burger was the day my life ended– or at least, that's what it felt like. Of course, it should probably be noted that I had just given birth, so the combination of stress, lack of sleep and hormones had me on a crazy train heading to Nutsville, but that doesn't mean that thing sucked any less. My pain was real.
However, after about a year or so had gone by, I figured I'd return to my abusive lover. Now, the veggie burgers come in slider form, which was enough of a change to give me a small glimmer of hope that they no longer tasted as though they came out of a toilet in a Taco Bell.
Surprisingly enough, they actually were better. It may be the fact that they were smaller allowed them to get crispier, but they definitely didn't make me want to kill myself this time, or start taking hostages. They're still a husk of their former selves, but it seems as though its court-ordered therapy has actually done some good. However, until Ruby Tuesday brings back the original veggie burger, I'm still going to be on the lookout for someone who treats me a little bit better.
No, seriously. Where can I get a decent veggie burger, you guys?
Photo Credit: Kona Gallagher