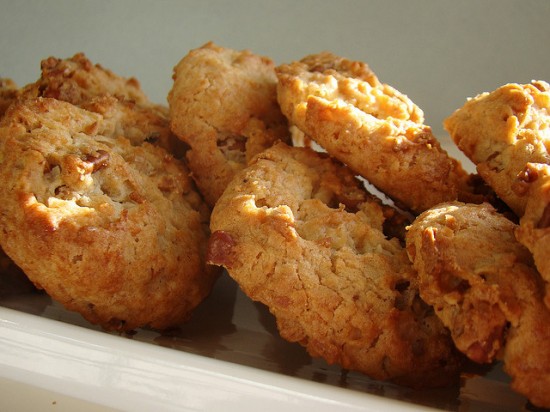 Although I enjoy my sprouted spelt flour baking, I'm really trying to cut down on my carbs, grains and flours in general. Gluten-free is supposed to be easy to digest but mostly, it's just a bunch of weird flours that tend not to have much fiber or nutrition.
So I've been on a hunt for some gluten-free treat recipes that use real food, not seven different obscure white flours and three different vegetable gums. Luckily, my hunt is proving fruitful and I've got some great recipes to share with you. The best news is that you probably have most of the ingredients in your pantry already, but if you don't, a trip to the closest market will get you all you need.
Elana's Pantry created this gorgeous cranberry almond loaf that she enjoys slathered with goat cheese (yes please) but that she suggests you could also toast and use for a turkey sandwich. Almond butter, almonds, seeds, eggs and other easy ingredients combine for a flourless bread. OK, so there's a little bit of arrowroot in it that might be hard to find, but I got my Bob's Red Mill Arrowroot Starch Flour, 20-Ounce (Pack of 4) for pennies on Amazon.
Yummy — oatmeal carrot cookies are gluten-free if you make sure you get oats that aren't contaminated, but if you don't have celiac you probably don't care. They call for stevia liquid (I know, I really have to explore this stuff) as a sweetener, but I'd just throw in agave syrup, palm sugar, brown rice syrup or a little honey.
Melting Wok's arrowroot cookies sound divine … it's the coconut milk that gets me. I'm definitely trying these.
Is it painfully obvious that I have a ton of arrowroot flour and I'm looking for recipes to try? Here are two arrowroot cake recipes — a yellow cake and a double chocolate cake — made with all normal ingredients. Too normal … I'd use palm sugar and organic butter, and replace the cream with plain yogurt. Other than that, I'm anxious to try these recipes because we don't often make cake.
I just have to give a shout-out to La Tartine Gourmande — she's got a gluten-free (and fabulous) section on her website, my favorite recipe being the chocolate tahini gooey cake.