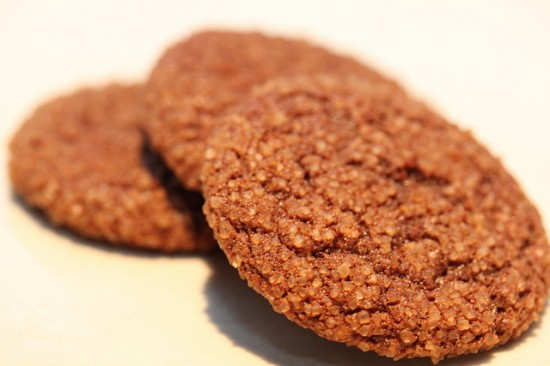 I'm at a real disadvantage this year … my cookie swap partners have abandoned me! Two are dieting and another has developed multiple food allergies so I'm baking by my lonesome. During the holidays, I like to bring a cookie tray with me to every gathering, so that I know Owen has a dessert he can eat. These are a few of the cookies and bars that have made it to my tray this year:
I make these chewy ginger cookies every year. I really want to make my friend Michelle's (former cookie swapper extraordinaire) ginger cookies, but I've written about her before … she's the one who clearly leaves out ingredients (or adds ones she doesn't tell us about) to make us all beg her to bake for us. It's a cruel trick — nothing ever comes out as good as when Michelle bakes it.
I've made these chewy chocolate cinnamon cookies before, but I wish I had made a few notes when last I baked them. I used agave instead of the corn syrup and palm sugar instead of refined sugar, but I really, really needed to cut back the amount. These are far too sweet for my tastes (but I bet most people with a sweet tooth would devour them). I like a cookie heavy on the chocolate and light on the sweet … these do not fit the bill. I did remember that they weren't cinnamon-y enough for me last time, so I added 1/2 teaspoon to the batter as well as to the rolling sugar (turbinado — look how big and sparkly it is). I'll try these again next year because the texture is fantastic … but I'll make them for my tastes instead!
You're also going to want to cut back the sugar in these triple chocolate cranberry oatmeal cookies, but you do want to bake them (and you do want to use the parchment paper … it's magic). They taste even better than they sound, if that's at all possible. Somehow I'm always lazy and I skip the white chocolate drizzle part; this year, I froze them before that step, so we'll see if I do it after the thaw. I'm betting laziness takes over.
I made these chocolate raspberry crumb bars in all of their evil goodness. They are perfect just the way they are … if you want to spike your blood sugar, overload your mucus membranes with dairy and get a wicked headache from the wheat. What do you mean, that's just me? I found a few substitutions that worked fabulously in a very similar recipe …
… for chocolate mint bars. These are getting rave reviews from all who try them. I made the basic dough with spelt flour and palm sugar, and instead of sweetened condensed milk, I used agave syrup and coconut milk. Ghiradelli chocolate chips and mint extract made the minty part. And I left out the walnuts to satisfy the multiple food allergy people in my life. It's all good.
These chocolate crinkles I didn't make (yet!), but I'm a sucker for chocolate and a sucker for a crinkle. This recipe calls for a holy load of sugar though, and I know they'd be too sweet for me. When I make these, I'll cut the sugar way back and probably roll the dough in a mixture of powdered sugar and cocoa powder. Because more chocolate can never be a bad thing.
You know it wouldn't be a post from me without a perfectly healthy dessert option — these cookie cutter cookies are it. No, I'm not making them, but it's not because I don't think they'd be tasty … I'm simply a drop-cookie gal. Yep, it's because I'm lazy.
Photo Credit: Debbie McDuffee