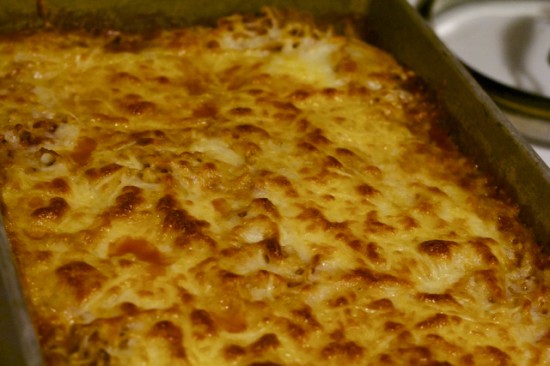 Like everybody else on the face of the earth, I'm ridiculously obsessed with Pinterest. Sure, I could do without the proliferation of twee inspirational quotes in interesting typefaces and living rooms that I'll never be able to afford, but there is no better website out there right now for random dinner inspiration.
I saw this pin for baked spaghetti, and immediately knew that I wanted to try it. Cooper, like most three-year-olds, loves pasta, so I'm always looking for new recipes. This particular baked spaghetti recipe involves ground beef, which I don't eat, and canned tomato sauce, which I don't have. However, the best thing about pasta is that it's infinitely customizable, so I took the basic idea and just went with it.
Baked Spaghetti

Print This Recipe
8 oz. Spaghetti
1 can diced tomatoes
1 can tomato sauce
1 diced onion
1 tbs Italian seasoning
2 cloves garlic
2 cups mozzarella
salt and pepper to taste
Preheat oven to 350. Cook your spaghetti according to package directions. Meanwhile, quarter your onion and dice it along with the garlic in the food processor. Put diced onion in a large bowl. Put diced tomatoes and italian seasoning in food processor and process until you get most of the chunks out. Add the tomato and spice mixture to the diced onion. Add tomato sauce and mix everything together. Add salt and pepper to taste. Add cooked spaghetti to sauce and stir, making sure to coat spaghetti evenly.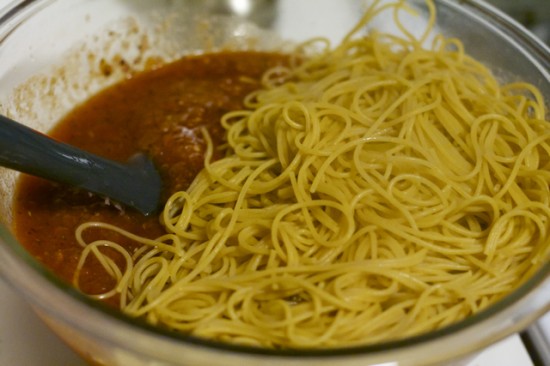 Transfer mixture into a greased baking dish. Sprinkle mozzarella on top and bake for about 30 minutes, or until the cheese is hot and bubbly.
Kid Tip: Since you're using a food processor, this is a great opportunity to get some extra veggies into your kid without them noticing. Throw some baby spinach, zucchini, and/or broccoli in the food processor along with the diced tomatoes for some extra nutrition.
Photo Credit: Kona Gallagher