Love Girl Scout Cookies? Don't buy them! Bake them!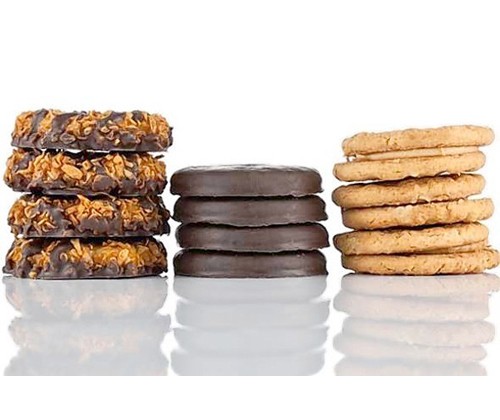 Do you love Girl Scout cookies? Which did you love the most Thin Mints, Samoas or Tagalongs? Well, thanks to the internet and Sandra Lee, you don't have to buy them. Just bake them!
The closing of Hostess re-awakened my nostalgia for childhood treats. On a whim, I took out Sandra Lee's Bake Sale Cookbook, expecting to find recipes I could easily recreate. While reading the "Cookies, Cookies" section I encountered three recipes: "Minty Thins," "Toasted Coconut Gooey Goodies" and "PB and Chocolate Chewies" which reminded me of the "Thin Mints," "Samoa" and "Tagalong" cookies I sold as a Girl Scout. I gasped. While part of me loved the nostalgic recipes, part of me wondered how Sandra Lee managed to recreate them without a troop of green-garbed elementary school girls parachuting into her backyard to torture her for daring to recreate the cookies that comprised their annual fundraiser. I never knew what happened to the money I raised. All I knew is I needed to sell at least two boxes while my mother guilt-tripped her friends into buying the rest.
In my day, they didn't give us badges for the honor.
And, in my day, they didn't give us badges for the honor. But, you received bragging rights and a prize I never cared about if you were one of the troop's top sellers. While I never really loved Thin Mints, when they introduced Samoas I did a double flip. Finally, someone created a Girl Scout cookie I could get down with.
After reading Sandra Lee's baking book, I started to wonder, who else dared to infringe upon Girl Scout recipes? I'd have to fire the Girl Scout signal. But, after an all-too short internet search, I discovered that practically everyone in the internet knew the secret. If you don't have time to pick up Sandra Lee's book, check out the recipes on-line. I discovered that Samoas are basically coconut mixed with caramel drizzled with melted chocolate; Thin Mints are just wafers dipped in peppermint-flavored melted chocolate; and Tagalongs, well, they're just peanut butter, smeared on a wafer and dipped in chocolate. I feel as if my childhood were a sham. Closely held recipes that I thought took years and years to develop, were all revealed to me with a click of a button. Rather than selling cookies for the troop, I could've just made them at home, sold them to my friends, and kept the profit.
OK. Maybe I'm not THAT jaded, sinister and evil … But, I'll admit I still refuse to buy Girl Scout cookies remembering the years (2nd through high school … yea: high school) that I spent selling Girl Scout cookies. All the same, check out the recipes above and let me know what you think! Even though I'm secretly evil, you don't have to be. Feel free to support Girl Scouts selling cookies. At least the new generation receives badges for their troubles!
[easyazon-image align="none" asin="B0098QPNJA" locale="us" height="160″ src="http://ecx.images-amazon.com/images/I/31A8IfVhCeL._SL160_.jpg" width="120″][easyazon-image align="none" asin="B005YEACQE" locale="us" height="120″ src="http://ecx.images-amazon.com/images/I/51gBz56VNQL._SL160_.jpg" width="160″][easyazon-image align="none" asin="B004UXXS5M" locale="us" height="140″ src="http://ecx.images-amazon.com/images/I/41cNg1%2Bql5L._SL160_.jpg" width="160″][easyazon-image align="none" asin="B004T053GS" locale="us" height="140″ src="http://ecx.images-amazon.com/images/I/218iORQ16WL._SL160_.jpg" width="140″][easyazon-image align="none" asin="0470645598″ locale="us" height="160″ src="http://ecx.images-amazon.com/images/I/61casgcAr6L._SL160_.jpg" width="148″]
Photo Credit: nourishingourchildren.wordpress.com