Breakfast at Tiffany's the film isn't the novel, and that's OK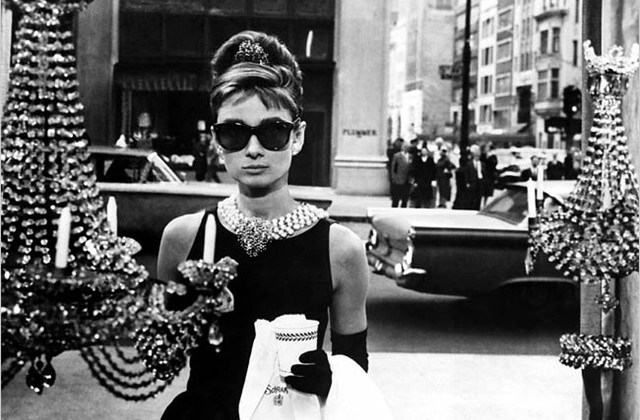 I recently read Truman Capote's novel 'Breakfast at Tiffany's'. Despite discovering Holly was a straight up bitch, my obsession with the film remains. In fact, the differences between film Holly and novel Holly explained questions I've had ever since watching the film at my best friend's slumber party back in junior high.
When I recently read the original Truman Capote novel, Breakfast at Tiffany's, and discovered its underlying difference from the George Alexrod-written and Blake Edwards-directed film, a lot of things clicked into place for me. The original Holly isn't the idealistic 1961 figure Audrey Hepburn embodied; she's an utter slapper and a racist. However, the novel explained what I unconsciously questioned about the character concerning her optimistic attitude and ability to care for herself. Despite learning the real Holly is more of a Snooki than an Audrey, I still love Breakfast at Tiffany's, in fact I almost love it more.
So, what are the main differences?
1. Novel Holly is like a Reality TV star – Opportunistic and Self-Oriented
Novelistic Holly has more in common with today's "It" girls –Paris Hilton, Amanda Bynes, Kim K and Lindsay Lohan.
Discovering the novelistic Holly had more in common with Paris Hilton, Amanda Bynes, Kim K and Lindsay Lohan didn't decrease my enjoyment in the character. Although I loved the idyllic elfin figure Hepburn inhabited, her idealism didn't feel as real as novelistic Holly's utter crassness. Textual Holly's hard, selfish money-focused personality represented the real New York "It" girl. Unlike the idealistic silver screen Holly we all loved, the novel's Holly is truly alone. While Hepburn's Holly travels from place to place, desperately hoping to find a home she feels comfortable, novelistic Holly travels because no place is home. For her, every location is temporary and transitory. That's why she's always "traveling," as depicted by her calling card. By contrast, the film's heart-melting final scene includes Paul telling Holly she belongs to him, he belongs to her and, let's be honest, Cat belonged to them both.
Realizing that book Holly is as hard on the inside as film Holly pretended to be on the outside made more sense than the film's starry-eyed dream girl with a sentimental core yearning for discovery. The novel's Holly I could see calculatingly marrying the older Doc in her teens for survival. Cinema Holly, not really. Reading the novel displayed facets of the character that I expected in the film version, but never quite appeared. Textual Holly didn't care to, want to or need to belong to any place while cinema Holly desperately wanted to belong somewhere. Although I prefer film Holly, I'm glad that I read the novel, which filled in gaps I couldn't stop seeing.
2.Novelistic Holly Trades Sex for Survival
She'll do what he wants as long as he gives her what she wants. In her book, no green bits means no lady bits.
Novelistic Holly is blatantly a hooker. She isn't with her dates for the fun or the experience. They're just walking Ulysses S. Grants. She doesn't care if he's a rat, a super-rat or a mouse. She'll do what he wants as long as he gives her what she wants. In her book, no green bits means no lady bits. As a pre-teen, I always viewed Hepburn's Holly as a professional dater more than a professional escort. She dates wealthy men for the lifestyle. But, she never guarantees sleeping with them and won't sleep with them if she doesn't have any feelings for them, even if they slide her powder room coinage. Cinema Holly slipping out of her bedroom window to avoid the drunken rat who slipped her fifty bucks differs from novel Holly who tells her date that NOT giving her enough powder room money means he better get the hell out of her building.
All the same, this harder version of Holly made more sense than filmic version. Filmic Holly only altruistically cared about money for her brother. Novelistic Holly just cared about money — brother or no. I finally understood how Holly Golightly managed to survive in a trendy neighborhood — Sally Tomato payout notwithstanding. So, sure, book Holly shares more in common with most reality TV start who only have sex if it guarantees a payout (fame-wise or otherwise), but it also made more sense.
Despite my realization, it hasn't dimmed my obsession.
Despite my realization, it hasn't dimmed my obsession. In fact, it fanned the flames further. Ever since junior high school, I've re-watched the original 1961 film starring a pre A-Team George Peppard. The opening black and white Breakfast at Tiffany's recreation in Ione Skye's (Say Anything) Dreams of an Insomniac was my favorite scene. In the '90s, I played Deep Blue Something's 1994 "Breakfast at Tiffany"'s on loop. Recently, I started visiting Tiffany.com until I worked up the courage to visit the local Tiffany store. Evidently, I've visited often enough that the security guard confided that I'm not the only woman who window shops Breakfast at Tiffany's style. This summer, after reading the novel and uncovering the original tarty Holly, my obsession expanded into wardrobe where I scoured Banana Republic, J. Crew and Anne Taylor for the perfect on-sale little black dress. I currently have two hanging in my closet. I might add a third soon.
At the end of the day, Breakfast at Tiffany's the film isn't the novel, and that's OK. What attracted me to the film, remains in the novel. The ethereal feeling of absence (Holly in the novel, Fred in the film) permeates both. The abysmally addictive whirlpool of not knowing where novel Holly is while watching film Holly uncertain of where to go, speaks to our own lives. Both remain equally addictive through their whimsical narrative style, despite the novel's more cutting edge. In fact, they both complement each other. The novel made more apparent themes that appeared more subtle in the film concerning Mag Wildwood, Rusty Trawler, Paul and Doc. And, Hepburn's idealistic, starry-eyed moon child made the novel more accessible. Even if the novel is different from the film, it's OK. Both helped me to understand the go lightly creature we call Holly and keeps the icon — both versions — warm in my heart.
[easyazon-image align="none" asin="B001HPP2XW" locale="us" height="160″ src="http://ecx.images-amazon.com/images/I/517y-XYhPVL._SL160_.jpg" width="113″][easyazon-image align="none" asin="067960085X" locale="us" height="160″ src="http://ecx.images-amazon.com/images/I/41Xih%2BstfAL._SL160_.jpg" width="102″][easyazon-image align="none" asin="0847836711″ locale="us" height="160″ src="http://ecx.images-amazon.com/images/I/41p50MbtW6L._SL160_.jpg" width="116″]
Photo Credit: Paramount Pictures