Breaking Bad – It's now all a matter of Gray Matter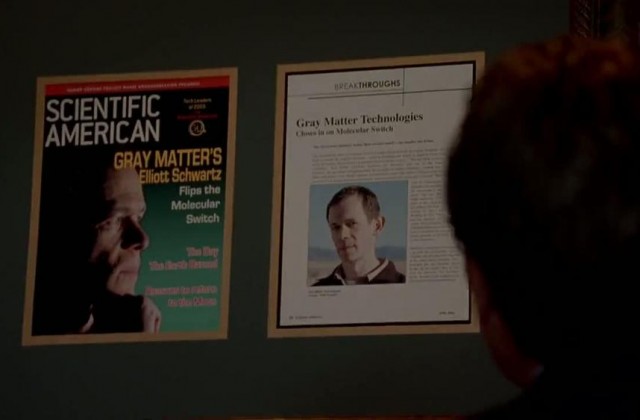 As 'Breaking Bad' leads to its final episode, one glaring piece of the past needs wrapping up, and it will all lead to Walt's final actions and how his family might still live (somewhat) happily ever after, or at least not poor.
This is it. This is the last time we can say we're looking forward to the "next" episode of Breaking Bad. Next Sunday, it all ends. So, you're wondering: how is it all going to end? That I don't know; I'm betting there are really not many who do know, especially outside the show's actors, production crew and staff. With the incredibly tight writing this season, though, you can certainly make some decent guesses for some of it.
You'll note two things that could have caused Walt to react the way he did.
For me, I say the majority of the final episode comes down to Gray Matter Technologies, the company Walt help found many years ago. It's certainly not a stretch: the final scene of the second-to-final episode ("Granite State") included Walt watching his old colleagues — Elliott and Gretchen Schwartz — denouncing Walter's contribution to their company. If you listen to that television interview closely, though, you'll note two things that could have caused Walt to react the way he did.
Firstly, Charlie Rose — the interviewer — let it be known that the Heisenberg-famous blue meth was back on the streets and even back in parts of Europe. This told Walt a couple of key things: Todd and his Nazi "family" were using Jesse to cook HIS blue meth recipe, and Lydia — of Madrigal — is actively working with them to distribute overseas.
The second thing that would clearly ruffle Walt is Elliott and Gretchen downplaying Walt's prior involvement with Gray Matter, other than being the "white" part of the "gray." Go back and watch a few episodes from the first two seasons, in particular "…and the Bag's in the River," "Gray Matter," and "Peekaboo." There you can see some flashbacks to those early days of Walt with Gretchen, and also how Walt feels about his being "cheated" out of a large share of the company he helped found. Walt's version of the story makes his departure from Gray Matter seem as though he was forced to do it, while Gretchen says he abandoned them. So who's right?
Now that Jesse's version is circulating — and under the Heisenberg name — that's clearly going to piss Walt off.
Let's start with the blue meth part of the story. You'll recall in past episodes that Walter is very adamant that the blue meth recipe is his and his alone, and that a Jesse version of it would be inferior. Now that Jesse's version is circulating — and under the Heisenberg name — that's clearly going to piss Walt off. This would flow in well with why Walt purchased an M-60, in the flash-forward scene from the beginning of this season: he's going to take out the Nazis. This would clearly be the easy guess, but it'd also be pretty surprising that he'd be able to take on the well-armed thugs himself. Plus, he'd have to find them, and without Saul's help.
This leads us to Lydia, Walt's only clear connection to finding Todd and the others. It also explains what Walt will do with the ricin he retrieved from his broken-down home: right into Lydia's stevia. Note that, in the last episode, it was no mistake that we saw Lydia once again ordering her usual tea from the diner and then asking for "more stevia." This was no small detail: it is where Walt will plant the ricin. The question is, is Walt just killing her outright out of spite/revenge? Or could it be that he's going to bait her into something else, i.e. "you're going to die from the poison I just gave you unless you do as I say." More on that later.
Photo Credit: AMC
This Post Contains Multiple Pages: 1
2