You should know about Jason Clarke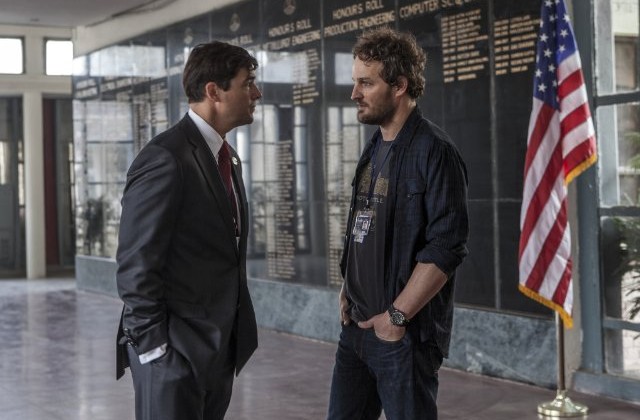 He co-stars in Academy Awards' Best Picture nominee 'Zero Dark Thirty' as CIA agent Dan Bradley: here's why you should know about Jason Clarke.
In Zero Dark Thirty, you'll easily spot Jason Clarke hunting for Bin Laden alongside Academy Award nominee Jessica Chastain. He's impossible to miss.
As veteran CIA operator Dan Bradley, the Australian actor serves as a sort of mentor and later, valued contact for Chastain's Maya Lambert. Dan is one of the first characters we meet in the film, and although he eventually takes a back seat to Maya, he never fades away. That's because Clarke is one of the sharpest actors working today. Not only does he have the physical presence to be the guy you absolutely do not want interrogating you, but he takes Dan on an arc of his own, creating an empathy for the man as he goes. There's an interest in what happens to him even when the story is no longer about him. It's a head-scratcher that Clarke didn't pick up a supporting-actor Oscar nomination himself.
His performance, however, isn't a surprise to anyone who has had the pleasure of watching Clarke on the small screen over the last several years. His first major US role was as ambitious Rhode Island politician Tommy Caffee in Showtime's original series Brotherhood, which ran for three seasons starting in 2006. It certainly didn't look like it was his first time in the lead. He was fantastic at peeling back the layers of Tommy, revealing to the audience that the so-called 'good brother' was as flawed as everyone else. Yet even when he did things that were absolutely infuriating — and there were a few — Clarke's performance made it so you never stopped caring about him. Tommy never lost his humanity, for better or for worse. Brotherhood was a brilliant series all the way around, and one heck of a way for an actor to make an arrival.
During and after Brotherhood, Clarke appeared in supporting film roles — including working with Michael Mann for Public Enemies and Oliver Stone in Wall Street: Money Never Sleeps — but he returned to the small screen in 2011 when he nabbed the starring role in FOX's The Chicago Code. Playing no-nonsense Chicago detective Jarek Wysocki, Clarke was dynamite. He was a revelation. All of the superlatives used to describe his character were believable because of how he played the part: always confident, with a passion for the city he was sworn to protect and the willingness to punch back on its behalf. At the same time, Clarke again showed us his character's vulnerabilities. Jarek was undoubtedly a hero, but he was what heroes really are: flawed, not always right, and having to deal with what it takes to fight the good fight. He was as raw and real a protagonist as TV could ever ask for.
It's no wonder why Clarke has come to the attention of big-name directors like Mann, Stone and Zero Dark Thirty's Kathryn Bigelow. He's a veteran actor who has honed his talent and it shows. He is the entire package: intimidating physicality, but underneath that great talent, especially in finding the heart within any given role. Conflicted politicians, reckless cops and tough-guy government agents are all parts we've seen before, but never quite the way Clarke has played them. Each of his characters has been distinct, and every role he takes is somehow memorable. That includes when he's playing second-string to a deserving Oscar nominee. With its high profile, Zero Dark Thirty should give Clarke the widespread notice that he deserves.
Clarke will next be seen in Baz Luhrmann's new version of The Great Gatsby, alongside Leonardo DiCaprio and Tobey Maguire. Zero Dark Thirty is in theaters now.
[easyazon-image align="none" asin="B000GH3CWK" locale="us" height="160″ src="http://ecx.images-amazon.com/images/I/51EBHYQSBPL._SL160_.jpg" width="115″][easyazon-image align="none" asin="B004MPCIMC" locale="us" height="135″ src="http://ecx.images-amazon.com/images/I/51eblbpeA8L._SL160_.jpg" width="160″][easyazon-image align="none" asin="B00ANT6OK8″ locale="us" height="160″ src="http://ecx.images-amazon.com/images/I/51381JyUT8L._SL160_.jpg" width="108″]
Photo Credit: Columbia Pictures