M. Night Shyamalan talks about Signs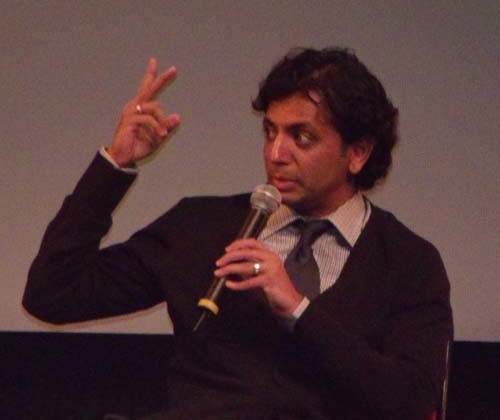 At the October Philly Film Festival, Philly favorite M. Night Shyamalan talked about working with Mel Gibson, his upcoming SyFy project, and his summer film with Will Smith.
M. Night Shyamalan is exactly who you'd expect: an incredibly down-to-earth, self-aware director. During his half hour Q & A after the 10th anniversary screening of Signs at the Philly Film Festival, he described his experiences with Mel Gibson, his inability to recgonize an adolescent Abigal Breslin and his love of his craft. Note: Because I can't keep typing Shyamalan for the next two pages, I'm going to call him what everyone else calls him — Night. Let's be honest that is such a cool name for a horror/thriller film director/writer.
He admitted to not recognizing an adolescent Abigail Breslin.
You know that Night is down to earth, because during the night he entertained the Philly Film audience with his inability to recognize his stars in adulthood. He admitted having dinner with his family one night when an attractive young woman approached him. Thinking she was a fan, he smiled, greeted her and then assumed she'd move on. When she didn't, they experienced an awkward pause when she asked if he remembered him. He didn't. That was 15-year-old Abigail Breslin who played Bo, the youngest child in Signs, when she was around five. To be honest, I completely understand. The currently blonde-haired, blue-eyed Breslin looks nothing like the adorable chubby-cheeked girl with glossy brown hair.
He calls actors like Mel Gibson and Will Smith superstars because of their charm.
Like most directors, he's a total fan of his actors and described being charmed by Mel during the filming of Signs and experiencing Will Smith's mega-watt superstar-charisma in After Earth. He stated he didn't have a crazy Mel experience, but felt the true power of Mel's uber-charm. As a director, Mel not only knew which shots Night might use, but sometimes his natural charisma seeped into Graham's character. Night admitted finding himself charmed during filming, but having to remind himself to ask Mel to tone it down. Graham contained a different humor from Mel. He wanted a deliberately stark, emotionless performance to reflect the character's hollowed out existence. While sometimes he remembered to correct Mel in filming, he admitted cutting down scenes in editing that slipped through his fingers. He underwent a similar experience with Will Smith. In an awestruck tone, he stated that stars are called superstars for a reason, because you can't stop falling under their spell.
He equally loved Abigail's performance and didn't pull any Steven Spielberg-esque tricks to get reactions from her. (Spielberg described opening presents for his first child actor to catch the child's reaction on film.) Before she filmed the final dinner scene, he explained the scene from Mel's character's perspective so she could react appropriately. He joked that after she knocked it out of the ballpark none of the adult male actors wanted to follow her.
Tom Hanks and Mark Ruffalo were originally cast in Signs.
He is a total film geek because he gleefully asked if the audience wanted to know who he originally cast in the film, before blurting out Tom Hanks and Mark Ruffalo. I agree. Both would've done excellent jobs. But, I would've missed watching Phoenix's excellent abs work under his shirt. Night admitted he initially couldn't choose between Abigail and another equally capable child actress, but Abigail's screening felt more authentic to him. He became equally cheerful when explaining they made crop circles around the world while filming Signs, but he was disappointed he couldn't tell people until after the movie. In a way, the cop in the film stating it'd be difficult to coordinate an international crop circle effort was wrong.
While the critical film audience viewed Signs as beneath his earlier works, he didn't write Signs for the film viewing audience, but for middle Americans who might not care about the Glassman or ghost-seeing children. He based the script on a woman trapped by a subway in a circumstance similar to Graham's wife. He admitted as a beginning director he brought his entire bag of tricks to his first two big films, but wanted to do something for the ordinary American while sitting at Denny's with his family. 
As you'd expect, he loves participating in movies, but doesn't want to give up control by starring in another person's project. As an Indian he feels it's more difficult to find film parts and admits he cast a Caucasian in the lead, he couldn't believably cast himself as the brother. Plus, as more people recognize him, it's doubly difficult to pull a Hitchcockian cameo. He's absolutely right. During the Signs 10th anniversary screening, when his mysteriously foreboding character appeared, the audience cheered happily.
However, Night's not only a film geek, but a director whose films bring together other geeks. When in Paris, he met a honeymooning couple who revealed Signs catalyzed their relationship. The husband showed the Signs crop circle he tattooed on his back.
I never quite understood Night's intentions in the late '90s. I had such large expectations after watching Unbreakable and Sixth Sense, that everything following it didn't measure it. He candidly admits after throwing his entire director's bag of tricks at those late 90s films, he didn't realize the press would build up expectations which they'd hold against his future projects. But, having re-watched Signs, and actually understood it, I now want to go back and watch the other post-Signs movies I panned. Maybe I misunderstood them, as well. Night is as down-to-earth as he seems, but is he as creepy? Yes. Each year his young children watch one of his movies in order, so the kids know what he does. It's cool, but would you want to watch Sixth Sense in elementary school? And, have you seen his website? Cah-reepy!
For upcoming projects, in addition to the Will Smith project due in June, he's working with SyFy on a show about the after life.
[easyazon-image align="none" asin="B000MS3YXU" locale="us" height="160″ src="http://ecx.images-amazon.com/images/I/51p55TC5uFL._SL160_.jpg" width="115″][easyazon-image align="none" asin="B00121QGV8″ locale="us" height="160″ src="http://ecx.images-amazon.com/images/I/41O0MJgLH1L._SL160_.jpg" width="128″][easyazon-image align="none" asin="B0000AGQ5Z" locale="us" height="160″ src="http://ecx.images-amazon.com/images/I/51NQBPTVFVL._SL160_.jpg" width="130″][easyazon-image align="none" asin="B004FHP7ES" locale="us" height="160″ src="http://ecx.images-amazon.com/images/I/51prakxV9%2BL._SL160_.jpg" width="107″][easyazon-image align="none" asin="B003Y5H4SO" locale="us" height="160″ src="http://ecx.images-amazon.com/images/I/41IyCmPYu-L._SL160_.jpg" width="112″][easyazon-image align="none" asin="B00064LJVO" locale="us" height="160″ src="http://ecx.images-amazon.com/images/I/51mptRi1GdL._SL160_.jpg" width="113″][easyazon-image align="none" asin="B00004BZIY" locale="us" height="160″ src="http://ecx.images-amazon.com/images/I/41HHBMBQDEL._SL160_.jpg" width="108″]
Photo Credit: An Nicholson