Mark Wahlberg starts off Philly's new year with Broken City screening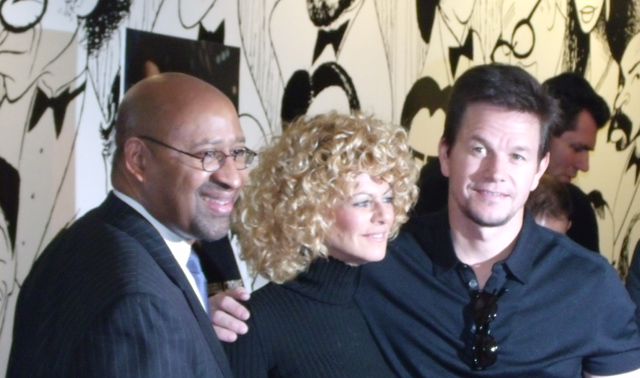 Mark Wahlberg and director/producer Allen Hughes dropped by Philadelphia to promote 'Broken City.'
While rocking a short-sleeved black polo, I learned that he has the most well-defined forearms ever.
My new year started off awesomely. Mark Wahlberg stopped in Philadelphia for a screening of Broken City. He not only took a good minute to greet the fans outside, but once inside the Prince Music Theater he literally took time to answer every single blogger's question and to take pictures with every single member of the press core and their friends. And, he did so incredibly casually. Sure, walking the red carpet, chatting with press and talking to local politicians/celebrities is his job, but it doesn't mean he can't enjoy it. He greeted Mayor Nutter and Sharon Pinkenson of the Greater Philadelphia Film Office like old friends and took a good five minutes to chat with an extreme fan who waited beside me on the press line for an hour and described her incredible love of him in the interim. Is he incredibly fit? Hell, yes. While rocking a short-sleeved black polo I learned that he has the most well-defined forearms ever.
What made it even better included seeing Allen Hughes of the Hughes brothers, who also directed this film, join in the fun. Before the Cohen and Nolan brothers took over, the Hughes brothers rocked it with Menace II Society and Dead Presidents in the 90s. Halfway through the press flashing, Allen jokingly took out his camera and took pictures of us as we took pictures of him.
Even if Mark Wahlberg and Allen Hughes weren't there, I definitely had an awesome time talking to my fellow on-line media writers. Everyone just seemed incredibly positive and incredibly pumped. And, I won't lie, a good many of us couldn't stop singing "Good Vibrations." I finally understood the SNL "Talk to Animals"/"Say Hi to Your Mother For Me" skit. Mark is literally the type of guy who will just walk from person to person and have an invested conversation with each of them.
Broken City stars Mark Wahlberg, Russell Crowe, and Catherine Zeta-Jones and is directed by Allen Hughes. It opens January 18th, nation-wide.
Photo Credit: An Nicholson