Mary Elizabeth Ellis and Harold Perrineau take to the web with new WIGS series Georgia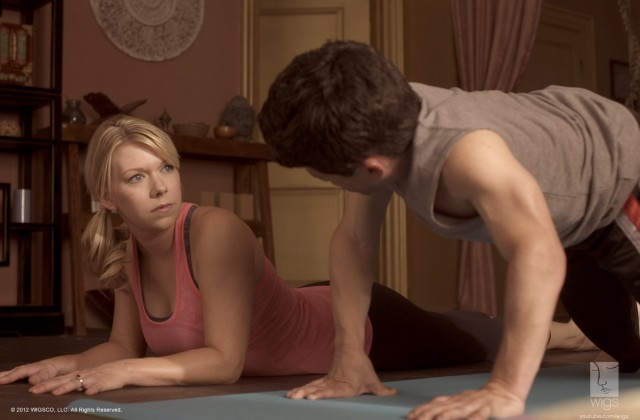 The 'It's Always Sunny in Philadelphia' actress and 'Sons of Anarchy' actor chat about what it's like to make a series for YouTube.
Mary Elizabeth Ellis and Harold Perrineau are well-known to TV audiences, but their next project is taking them online. They're the stars of Georgia, the new comedy series from writer-director Marta Kauffman (Friends) that's the latest series on WIGS — a YouTube channel for original scripted programs that's attracted the likes of Jennifer Beals, Stephen Moyer, and Jennifer Garner. Georgia debuts its third episode today; you can visit the WIGS YouTube channel to check out all the installments.
In Georgia, Ellis (best known as The Waitress from It's Always Sunny in Philadelphia) plays the title character, a yoga psychotherapist looking to bring calm into both the lives of her patients and her own. Georgia's fiancee is Michael, played by Perrineau (who's guest starring as Damon Pope in the current season of Sons of Anarchy). I recently caught up with Ellis and Perrineau to ask them about the differences between traditional television and web TV, their favorite parts of Georgia, and the people who make them laugh.
What interested both of them in jumping on board for the project? "There were so many things I enjoyed about this project, but my favorite part was the wonderful people involved," Ellis told me. "I got to work with Marta Kaufman, Harold Perrineau — who I've had a crush on since Romeo and Juliet — Jason Gedrick, Nancy Carell, Mark Povinelli, and Rusty Schwimmer as well as an awesome crew and producers."
Likewise, Perrineau appreciated the people he got to collaborate with. "The highlight for me was finally getting to work with Marta Kauffman," he said. "We've been friends for years, and I loved her work for even longer. Also, I got to meet the fabulous Mary Elizabeth. That was absolutely fun."
Other than the medium of delivery, Ellis explained that there are some differences between a series you'd see on television and one that's made for YouTube.
Other than the medium of delivery, Ellis explained that there are some differences between a series you'd see on television and one that's made for YouTube. "I think there was more creative freedom for Marta in this format because there weren't as many 'cooks in the kitchen,' as they say. There are usually so many people from the studio and network giving input that projects have a tendency to get diluted from the original vision. The fact that Marta wrote and directed made her vision more accessible and clear, I think," she said. "We, the actors, also had an opportunity to talk the characters out in a way there is not always time for on a conventional set."
The quality of what they could do wasn't hampered because of the format. "The sets, hair and makeup, costumes, all of the behind-the-scenes stuff was not really different from any set I've worked on — very professional and safe," she said. Added Perrineau, "Because the budget is a little different, some of the amenities are different, and some of our crew's ability to move quickly is different, [but] the work is still the same."
In fact, for Ellis, "My biggest challenge was a personal one. I had a four-and-a-half-month old baby at the time, so I was balancing breast feeding, lack of sleep, and debating whether to bring him to set or leave him at home during the days," she confided. "It was a very kind set for those challenges, though. I truly appreciate the support I was given from our wonderful producers, who were both mothers, as well as Marta and even the daddies in the cast and crew. I think the transitional phase I was in at that time in my life helped inform my approach to Georgia's transitional phase, which is the heart of the film to me. "
With Georgia, the story unfolds over relatively brief installments (episode two is about nine minutes long) so the actors have to build their characters differently than they would with a conventional twenty-two minute comedy. In my previous interview with Ellis, she discussed being a writer as well as an actress, and that's further informed how she approaches material when she's acting. "I try to be very respectful of the writer's words. I always ask if the writer is alright with a little improv here and there," she explained, "because I know the process of sitting and working so hard to come up with just the right words [and] rhythms."
Likewise, Perrineau took a similarly collaborative approach. With the role of Michael, "Development of the character really came from conversations with Marta, and what we both decided we'd like to see on screen."
The size of the episodes aside, the character development definitely came through in the finished product.
The size of the episodes aside, the character development definitely came through in the finished product. "I'm excited about Georgia because, although it is a comedy, there are also dramatic things going on in Georgia's life so you really get a sense of her as a whole person. Georgia is one of the most fleshed out characters I have played in a while. The piece was exciting for me because of that," said Ellis. "I also really enjoyed playing a yoga healer because I love yoga so much in my own life and respect what it can do to help people in their lives."
Photo Credit: WIGSCO, LLC
This Post Contains Multiple Pages: 1
2