Without Reese, Person of Interest rocks it like a tight dress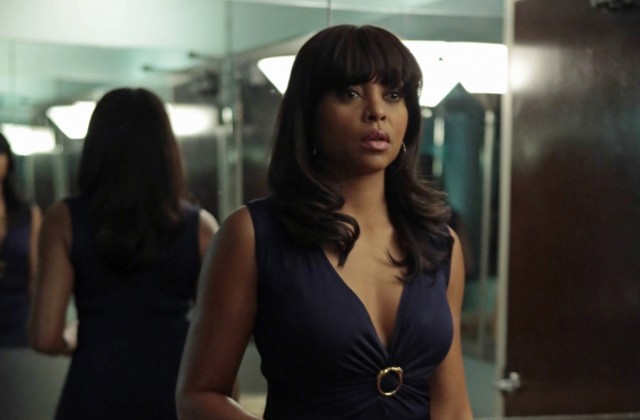 'Person of Interest' returns with "2 Pi R." In a kickbutt mid-season premiere, Carter and Finch channel Reese, Fusco channels Finch and the writers channel awesomeness.
I can't believe I spent a good five minutes talking to Jonathan Nolan and Greg Plageman and they didn't give away the returning mid-season plot. Damn. They're good. Fort Knox good. They might tangibly answer your questions, but they don't give away the vault. Even Carter would have difficulty interrogating them. However, this week, Person of Interest returned to quality business as usual. The writing strength particularly occurred through the producers' ability to maintain a tightly knit show without Reese. The kickassery continued through each individual character's growth and the multiple hidden academic Easter eggs. Overall, Person of Interest and "2 PI R" rocked it. Was there any doubt?
Most shows typically weaken in the absence of their lead actor (or his/her sidekick), but Person of Interest didn't. In fact, it strengthened. When Alex O'Loughlin took his Hawaii Five-0 leave of absence, the show took a hit. While Scott Caan and the supporting cast stepped up, I still felt McGarrett's absence keenly. But, this week, jailing Reese didn't slow down the plot. It improved it. In fact, if they dropped Jim Caviezel tomorrow, I'd still continue watching the show.
If Jonah and Greg aren't reading fanfiction.net, someone on that writing staff is.
The smoothness of the plot, the casual Finch-Fusco chemistry, and the ability of Carter to step outside her moral zone into Reese territory surprised me. The way the characters seamlessly shifted into other areas without seeming like a stretch impressed me. I did a double-take when Carter easily threw herself into Zoe and Reese's capabilities. If Jonah and Greg aren't reading fanfiction.net, someone on that writing staff is. Fanfic scenario #6789 typically surrounds Carter rocking a hot dress and seducing or becoming seduced by Reese/an unknown stranger. While I loved seeing Carter's creepy calculating side, it didn't gel with last season's asexual Carter that appeared unaware of her physicality. Where would a single mother buy or have the funds to purchase a dress like that? Let alone those shoes. And, seriously, where's her kid? And, what did she say when leaving? "I'm sorry, honey, Mom's got to rescue her friend by stealing the DNA of a hapless bar fly. See you later. Kisses!"
Seriously, Carter knows how to curl her hair and giggle like a fem-bot? Really? CARTER?!!
The uber-confidence Carter rocked knowing she'd pull a hot whale doubly surprised me. Seriously, Carter knows how to curl her hair and giggle like a fem-bot? Really? CARTER?!! While drugging an innocent man, swabbing his DNA, capably breaking into a secure building and expertly swapping bio-samples spoke to her army capabilities, what happened to the moral "don't cross the line" Carter? Clearly, she's all in. It was awesome. And the capabilities fit the character. But, FUH-WHAT?! Did the ghosts of Zoe AND Reese inhabit her body?! I expected the core four to go their separate ways. But, instead, this week they grew closer. AMAZING. I still don't understand why Donnelly trusts Carter implicitly. Sure, she shared the same white-hot passion last year. But, hasn't he noticed she BARELY contributes to the conversation now?! And, whenever she's around his investigation ALWAYS goes awry? Didn't he notice the sizzling glance Carter and Reese shared?! I did! Dude, can Carter and Reese spend even five minutes in the same room without looking like they're about to tear each other's clothes off?! NO! And, Donnelly DIDN'T NOTICE?! Really?! I grieve for the observation tactics of the Federal Bureau of Investigations.
 *swoon*, Person of Interest writers, I love you.
This episode rocked because it didn't hinge on action, Reese's sexy face, or HR corruption. Like all decent Person of Interest scripts, it hinged on writing. I loved the covert parallels written into the plot that served as tiny Easter eggs, including Caleb as a mini-Finch, the Reese swab in the beginning book-ended by Carter swabbing a Reese look-a-like at the end, and Finch's high school substitute job paralleling Reese's jail time (doesn't everyone call high school prison?).
I squealed when Finch wrote Mr. Swift on the board, because Jonathan Swift's an amazingly witty 18th century poet. I further suspected an 18th century connection when the week's victim referenced Dead Poet's Society. Finally, 17621, the kid's special number?! Well, according to Math.com, "In 1761 Lambert proved that Pi was irrational, that is, that it can't be written as a ratio of integer numbers." Seriously, *swoon*, Person of Interest writers, I love you.
Pet peeve aside, Finch's discussion of Pi as containing practically any existing numeric pattern rocked.
The only weak spot surrounded Finch's Pi lecture, but even that became cool.I don't remember my junior high, high school or college math instructors ever lecturing on Pi by itself for so long. And, I minored in Math. Honestly, Pi is infinity. Boom. We're done. Normally Pi is discussed concerning the circumference of circles or regarding other formulas. But, still introducing Pi (and the circumference of circles) seemed pretty remedial for high school. And, these kids didn't look 14. But, it's been awhile, so maybe it isn't that introductory. Admittedly, as a former academic, one of my biggest pet peeves surrounds when TV instructors give generic, yet awesome lectures that have no root in a tangible lesson plan. In The Mirror Has Two Faces, Barbara Streisand's character gave an awesome virgin-whore lecture, but she didn't include any literary references, which wouldn't happen in a college English class. All the same, pet peeve aside, Finch's discussion of Pi containing the numeric equivalent of letters and practically any existing numeric pattern rocked.
Jonah Nolan. Will you marry me? 
Person of Interest's writing, hidden easter eggs, cast cohesion and visuals continue to draw me, especially in the mid-season return. In the fall, they had a mini-Wayne manor joke. This week, they featured numerous nested 18th century jokes (similar to the nested for loops on the scrap of paper). Jonah Nolan. Will you marry me? It's odd, last season Carter-less episodes felt emotion-less and weak. But, a Reese-less episode felt strong and cohesive. Are the writers learning how to balance plot and cast? Obviously. This week rocked. And, I hope the show continues to rock, rattle and roll for its duration.
[easyazon-image align="none" asin="078401213X" locale="us" height="160″ src="http://ecx.images-amazon.com/images/I/41VEN4HQ2CL._SL160_.jpg" width="105″][easyazon-image align="none" asin="B005LAIIHG" locale="us" height="160″ src="http://ecx.images-amazon.com/images/I/51YvSft-hHL._SL160_.jpg" width="120″][easyazon-image align="none" asin="B000MEYKD2″ locale="us" height="160″ src="http://ecx.images-amazon.com/images/I/51gQZEcnAeL._SL160_.jpg" width="113″][easyazon-image align="none" asin="B0053O8AKU" locale="us" height="160″ src="http://ecx.images-amazon.com/images/I/51U4Hp0YUtL._SL160_.jpg" width="139″][easyazon-image align="none" asin="0802775624″ locale="us" height="160″ src="http://ecx.images-amazon.com/images/I/51bgC1%2BI%2BpL._SL160_.jpg" width="160″][easyazon-image align="none" asin="1591022002″ locale="us" height="160″ src="http://ecx.images-amazon.com/images/I/515aITvnUNL._SL160_.jpg" width="104″][easyazon-image align="none" asin="0756951763″ locale="us" height="160″ src="http://ecx.images-amazon.com/images/I/31pJ84S9-SL._SL160_.jpg" width="139″][easyazon-image align="none" asin="B003XU7VVA" locale="us" height="160″ src="http://ecx.images-amazon.com/images/I/51rhH1qRBzL._SL160_.jpg" width="104″][easyazon-image align="none" asin="1593631200″ locale="us" height="160″ src="http://ecx.images-amazon.com/images/I/51FmGL30yDL._SL160_.jpg" width="124″]
Photo Credit: CBS