Best of Warner Bros. 20 Film Collection: Best Pictures – DVD review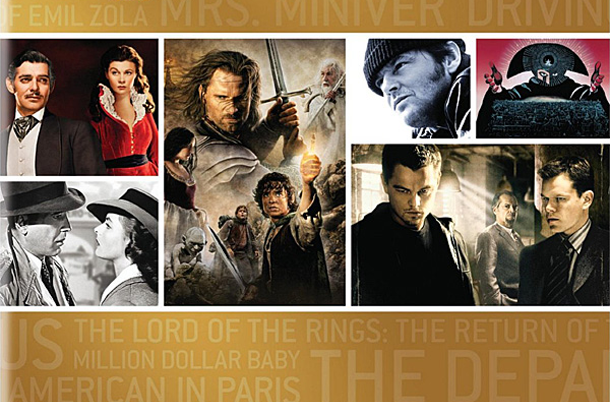 Warner Bros. continues its celebration of its 90 years with the release of 20 Academy Award winning films in one handy and well-packaged set.
Even huge fans of award-winning films don't have every one of them on their DVD shelf. Sure, you may have one or two of the BIG ones, but there could be a few you've always been meaning to get but never got around to. Then there are those like me, who don't own ANY of them but always had it on their list to get around to someday.
Enter Warner Bros.' latest box set of films: Best of Warner Bros. 20 Film Collection: Best Pictures. At first it might not be clear what you're getting here: are these what WB thinks are its best pictures, or are they actually award winners themselves? You'll be happy to know it's the latter, and it's rather complete. The only omissions I could find with some quick research were My Fair Lady and Slumdog Millionaire. Probably Warner Bros. wanted to stick with a nice even 20 films for the set and not squeeze in two more.
At first you'd think a box set like this might only include the films themselves, with perhaps little else in the form of extras. Not so. In fact, there are some excellent accompanying extras for most of the included films, including theatrical trailers, featurettes and commentaries. The films included:
The Broadway Melody (1929)
Grand Hotel (1932)
Mutiny on the Bounty (1935)
The Life of Emile Zola (1937)
Gone with The Wind (1939)
Casablanca (1942)
Mrs. Miniver (1942)
The Best Years of Our Lives (1946)
An American in Paris (1951)
Around the World in 80 Days (1956)
Gigi (1958)
Ben-Hur (1959)
One Flew Over the Cuckoo's Nest (1975)
Chariots of Fire (1981)
Amadeus: Director's Cut (1984)
Driving Miss Daisy (1989)
Unforgiven (1992)
The Lord of the Rings: The Return of the King (2003)
Million Dollar Baby (2004)
The Departed (2006)
This is one of those sets that's perfect for someone who wants to own most of these films but wants to consolidate a bit, as it's about four standard DVD cases wide for 20 films. It's also one of those great sets you could own and leave at a rental property for renters to enjoy, having the pick from amongst some of the best release films in the past 50 years. Pick it up today from Warner Bros. official store, or from the links below — it's out today!
Photo Credit: Warner Bros.