The best and worst dressed of the Golden Globes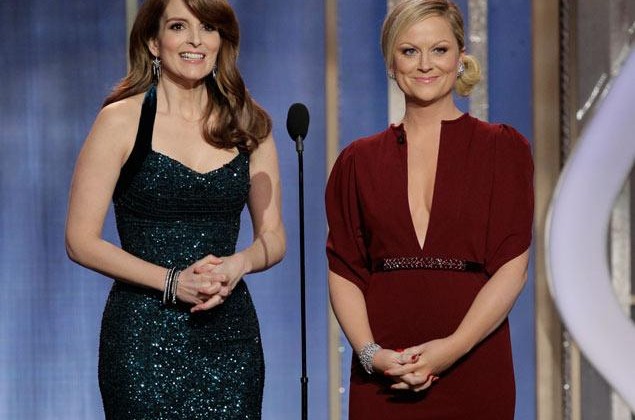 It's time to review the best and worst dressed of the Golden Globes! Because the best part of any awards show isn't the awards — it's ripping apart the fashion after.
Let's be real – anyone who watches awards shows for the actual awards is probably a masochist, because as Ron Swanson has so rightly pointed out, they never go to the right people. But there is one reason I think we can all agree we watch awards shows – to judge what people (and by "people" I mean "women", because suits are boring) are wearing.
Michelle Dockery's dress, which I have saved and labeled as "horramazing."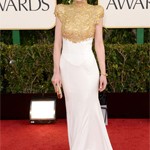 I always, when judging, like to start with the good, though I'm unsure about Michelle Dockery's dress, which I have saved and labeled as "horramazing." The gold I-think-it's-lace is gorgeous, but it's odd. First of all, it's too high, and no one looks good in a turtleneck. (See also: what Kristen Bell was wearing.) But then it also doesn't go down far enough on her body.  It should either end just above her bust or at her waist, and instead it floats in a weird rib nether region. It should be horribly unflattering and I should just put it away in the bad section, except… she looks gorgeous in it. Which is hardly a fair metric on Michelle Dockery, who would look gorgeous and poised in a potato sack, but she looks especially lovely. So who am I to judge, really? (I ask rhetorically as I prepare to continue to judge for the rest of this column.)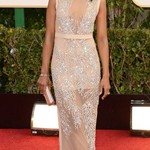 Here's what I like about Kerry Washington's dress; not only is it fabulous, but it illustrates an excellent point, which is that there are some things white people should just not attempt. Call and response, for example, is something white people can't really get away with. Another thing white people cannot get away with, though lord knows people have been trying and trying for the last five years, is the whole nude/taupe/old silly putty color dresses trend. You need skin pigment for that to provide contrast. You need, in short, to be as fabulous as Kerry Washington. And my, but doesn't she look fabulous.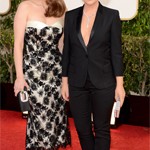 I realize right now that my bias is probably showing when I say that both Tina Fey and Amy Poehler looked (and were) flawless all night long, but they really were. Not only do they deserve all the praise that's been raining in on them, but their stylists deserve big, fat raises. In particular, I thought Amy's chic little suit (love a lady in a chic suit) on the red carpet and Tina's sparkly presenting dress (she has never looked hotter) were the winners of the evening. Applause all around, ladies, now please host every awards show ever, and thanks.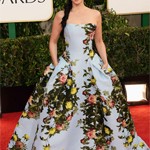 As for the bad and/or ugly — I know I'm going straight into controversial territory putting Lucy Liu's dress in this category. In my defense, I've been swinging back and forth on this one. On one hand, it's great to see a print, she certainly doesn't look boring, I love her hair, and Lucy Liu is another person you can stick in a potato sack and she'd still look gorgeous. The problem is, my initial reaction was "ick", and I just can't shake it. Yes, it's a print, but it's an ugly, cheap-looking, faux-baroque print that I think my grandmothers both had embroidered and framed in their living rooms at some point. As much as I love the hair, it looks sloppy paired with the dress. The combination makes me want to break into "Edelweiss" from The Sound of Music. That's never a good sign. Out.
The combination makes me want to break into "Edelweiss" from The Sound of Music. That's never a good sign. Out.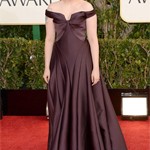 Look, Lena Dunham, I've watched enough Say Yes to the Dress: Bridesmaids to know that sometimes you have to buy these big, fancy numbers that are insanely unflattering and you wouldn't want to be caught dead in, but you do it because you love the person getting married and want to be in their wedding. And that's fine, but did you have to wear one of those dresses, butterfly boobs, hip panels, and all on the read carpet? Waste not, want not is a virtue, but this dress is a waste. I mean, there's always the chance you actually liked the dress and thought it was flattering on you, but I think my explanation is less of a stretch.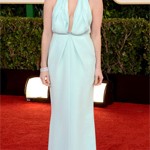 My mother always raised me to believe that if I didn't have anything nice to say, to not say anything at all. Of course, this was in the Stone Age before blogging, but I still like to try to follow that advice. So instead of commenting on the worst-tailored dress of all time or the monstrosity that is whatever that hairstyle is Jessica Chastain is sporting, I'm just going to say this: that color is lovely on you, Jess. It really is.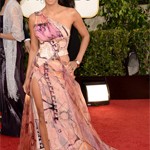 Halle Berry, JLo circa 2002 called. First of all, she's concerned you've been wearing the same dress for roughly ten years. Second of all, even she doesn't want this particular dress back.
Photo Credit: NBC