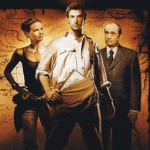 Yesterday Deb had a little one-on-one interview with Dean Devlin, producer of TNT's new hit, Leverage, as well as the trilogy of The Librarian TV movies (the third one aired early last month). She'll have that interview up sometime later (small preview: Christian Kane's hair is discussed in length — pun intended). One question that came up was about where The Librarian series is headed; given its success, will it ever transcend to the big screen?
"We're in the process right now of writing the script," Devlin told Deb in the interview. "Were hoping some time later this year to start shooting the first Librarian feature movie." Maybe Noah Wyle didn't make such a bad move after all.
With the so-so reception the last Indiana Jones movie got (aliens and swinging through trees with monkeys — I mean, come on!), it's possible that something like this might be a welcome "replacement" for it. Then again, have you seen the National Treasure series? Yikes.
"We're a little more family friendly than the Indiana Jones franchise," Devlin continued, "but it's a good time to let this character flourish."
Resident CliqueClack Librarian expert, Rich Keller, had this to say about the series: "For an action-adventure television series it was good. Cheesy but good. Everyone involved looked to be having a good time filming the series. The third installment was probably the best of them all."
I've yet to check any of the Librarian movies out, but the fact that a feature movie is in the works will make me think twice about passing up at least one of the movies, should it make a repeat showing on TV. I'd love to hear your opinion on the movies if you've seen them — let loose in the comments below.
Photo Credit: TNT