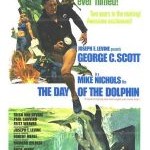 A movie from the early '70s it seems. Not sure what I or Shawn are talking about? Let me recap: During last Friday's winter premiere of Psych, resident "psychic" Shawn Spencer came "this close" to living his dream of riding a dolphin at the local aquarium. How close? Close enough that he was in his bathing trunks, up on the dock, ready to jump on the dolphin's back at a moment's notice.
But, he hesitated. As the dolphin reared its snout over the water Shawn suddenly exclaimed, "Pa does not love Fa! Pa does not love Fa!" I'm sure some younger viewers were confused by the statement and were probably concerned that Shawn was having some sort of seizure. Fortunately, Mr. Spencer was just fine; he was just doing something that he has been known for since the series began: pulling pop culture references out of his rear end. In this case, "Pa does not love Fa" came from an obscure '70s movie that I, Near King of all Meaningless Trivia, didn't even know about.
The movie was the 1973 Day of the Dolphin. Directed by Mike Nichols, written by Buck Henry and starring George C. Scott, Dolphin was the story of a brilliant scientist, Dr. Jake Terrell (Scott) who trained dolphins to communicate with humans by speaking English in dolphin-like voices. Unfortunately, like all intelligent animals of the time, the two dolphins Terrell trained — Alpha ("Fa) and Beta ("Be") — were stolen by a shadowy organization known as the Franklin Institute (which is not the science museum in Philadelphia).
The Institute, led by Curtis Mahoney (Paul Sorvino), proceeds to train the dolphins to carry out an assassination against the President of the United States' yacht. What? You thought he was teaching them to fly? What happened next? Well, you should really watch the movie to find out.
Day of the Dolphin received mixed reviews and wasn't commercially successful. On the up side, it did manage to be nominated for two Academy Awards for Best Original Score and Best Sound. On the down side, I'm sure that the careers of Scott, Nichols and Henry suffered slightly after the film was released.
There you have it! Another useless piece of pop culture flotsam courtesy of your friends at CliqueClack TV. Add this to your repertoire of useless information and watch those around you gasp impressively at your knowledge. Trust us, you won't be disappointed.
Photo Credit: Adventureblog