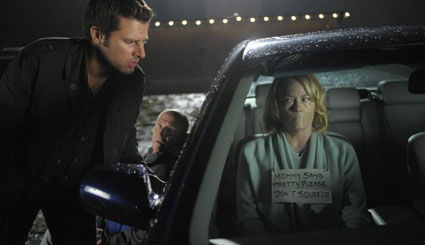 Oh, right! Like I'm going to tell you who it was in the second sentence of this post. Please, I've done enough of these to know that if I reveal even what color sweater Gus was wearing in the episode you'll get on my case about spoilers. And, if you tell me that I spoiled a plot point because I said Gus wore a sweater this week I'll fill your iPod with selections from Urban Chimpmunk.
I will tell you one thing about the Ying Yang killer: the reveal of who it was made perfect sense for Psych since the show is known for its plethora of '80s pop culture references. Ah, got your curiosity didn't I? It could be any film or TV star from that decade. Maybe it's someone who Shawn or Gus mentioned previously.
Getting a bit itchy to find out who it was? All right, here we go. The Ying Yang serial killer is none other than…
… Ally Sheedy. It was hard to tell initially that it was the star of classic '80s movies like War Games, The Breakfast Club and Short Circuit. First, because we saw her from a distance. Second, when we saw her up close she looked nutso crazy. The role was small — one scene — but Sheedy really exuded insanity as she toyed with Shawn's emotions.
It wasn't just one woman in the season finale of Psych that made his life a bit tense. Shawn became so tense that his trademark flippancy slowly disappeared as the episode progressed. I know last week's episode was fairly serious, but this one topped it. Shawn, as well as the entire cast stepped up to darken the tone of the show and did an admirable job.
Anyway, back to the women who made Shawn's life complicated. In addition to Ying Yang there was the waitress at the restaurant who ended up getting kidnapped and was the first femme fatale that young Mr. Spencer had to save. Next was Abigail, a former high school flame he met at a reunion earlier this season. In her case Shawn finally took the plunge and asked her out on a real date. Unfortunately, Abigail didn't believe that he and Gus were chasing a serial killer until the very end of the episode.
Then there was Shawn's mother, Madeleine, who happened to just show up at the most inopportune moment. There was no doubt that she was going to be the subject of Ying Yang's attention. That's not coming from psychic abilities of my own … it was in the previews. Like the rest of the Spencer family, Mom handled the whole thing cool and calm like, which probably prevented her from being blown up.
Finally, there was Juliet. Worst. Timing. Ever. Three seasons it's taken for Shawn to finally wear Jules down and make that big romantic leap and she lets her feelings be known to him when he's on another date. Arrrrggghhh! At least they both handled the situation like adults and left the door open for some potential romance next season. And a potential love triangle between Shawn, Abigail and Jules.
A fine ending to a very interesting season of Psych. Others may complain that it wasn't like the other two seasons. Personally, I think the growth that the show displayed made it better, particularly in the second half. Looking forward to the new season in July.
Photo Credit: USA Network