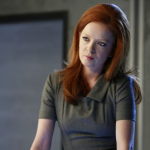 Aren't two part episodes supposed to have a big cliffhanger? I mean as compelling as watching Jesse shift the lamp on her end table, it isn't exactly going to be haunting my dreams until next week. Yes, the interesting flashback (or is that flashforward?) did have more to reveal, but did that warrant a "to be continued?" I suppose it's a very small thing, so I'll stop griping.
It was nice to see Weaver again, wasn't it? I hadn't realized how much I missed the creepy red-headed terminator. She seemed almost giddy over the progress of John Henry. It got me wondering if all that progress is going to go anywhere this season, or if we'll have to wait for next season to see any Weaver/Connor/John Henry confrontation. I'm certainly optimistic, aren't I? Some may say delusional….
For my money, the most interesting thing going on this week was the flashback/forward of Jesse and her crew in the submarine in 2027. We've seen how much Jesse hates the machines and refuses to trust or even believe that one could be working to protect the Connors. Well, it hasn't always been that way. How curious that at one time it was Derek trying to convince Jesse not to trust the machines that were working for John Connor.
Now, we really only got half the story, and it certainly looks like some serious trouble went down on that sub in 2027. I'm fascinated to find out what exactly is in that box and whether or not John Connor actually had anything to do with the sub stopping to pick it up. Any theories?
It was also great to see Chad Coleman guest starring as the sub driving terminator in the future. With all my watching of The Wire lately, I feel like the cast is popping up everywhere. John Doman and Clarke Peters have been putting in time over on Damages, and Lance Reddick has moved on to Lost and Fringe. I think it's a testament to how good a show is when it's almost jarring seeing an actor from it in a different role. The fact is that the characters form The Wire are so deep and well written, that it's hard to imagine the actors as anyone else. Yes, yes, this is a Terminator post, sorry. No more Wire talk.
Photo Credit: FOX