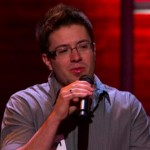 Today's Guest-clacker is Michael Noble, a married native Southern California family man.  He is alive and well, and spouts off more often than he should and is currently embroiled in a Project 365 photo blog.

Ain't it a kick how everyone has their own little quirks and kinks about this show?
"He's darling."
"She can't sing to save her life."
"He's icky."
"She has to win … and it's a crime if she doesn't!"
"Why does Simon flatten his hair and part it down the middle like that anyway? I love his "way," but he looks like such a goober!"
You see: That's the draw of American Idol. There's something in it for everyone. If you like singing, well … there it is. If you can't stand the singing, there's the drama. What? No drama? How 'bout the comedy — intentional and otherwise? Whazat? Comedy not your thing? Well, there's always the gaffs and boners that inevitably get tossed out with unassuming glee by Seacrest and Company.
But it comes down to the fact it is a singing competition (though … there are nights we wonder about that) …. and with Most Popular Downloads being the theme of the week, let's get an oh-so-dismal episode under our belts:

Anoop Desai
An Usher tune? Ugh. Off key. Poser-ish. Glum. And the brown-striped Charlie-Brown-meets-Michael-Jackson ensemble was a Simpsons parody at its best. It did, however, distract me from the singing … if you can call it that. Anoop disappointed tonight. But his signature fiestiness was still in evidence.

Megan "Inky" Joy
Okay. Here's what I've said all along: Chicks with tattoos on Idol don't win. They don't last long, either. That being said, the one thing I really do like about Inky is the fact she apes Katharine Whalen of Squirrel Nut Zippers with her almost old fashioned singing style. And that's the best thing I can say about Inky trying to pull off Bob Marley. snoozefest-a-rooni, lower case for certain. *yawn*
Danny "The Gokester" Gokey
I've said it before: The dude can sing anything. Give him a washing machine instruction manual and he could put a tune to it. Period.
But modern country ala Rascal Flatts? Really … ?!? And — while not fantastical by any stretch — The Gokester pulled it off. Nope, he's not the most dynamic personality this season, but he's been solid for the most part, week after week.
Allison "Red" Iraheta
Was there a song Red could've picked that would have been tailored any more for her? The one thing she does is put it inside her and then she lets it all out. She strained for the first time in recent memory with this performance, but her foibles beat out some of the others' best efforts. She'll probably make the Top Three, but she won't win. Her inexperience will be her undoing at some point.
Scott MacIntyre
Y'know, Scottie doesn't sing as well as I originally thought. His last two performances didn't do him any justice. His Billy Joel rendition bolstered him back up a bit in the standings, but he's not long for the competition. Spiffy effort, heartfelt. And I would like to believe I'm wrong about Scott and his ever-shorter stay on the show.
Matt Giraud
Matt, you were right. You needed a powerful song after your previous efforts. And you found it. Too bad it overpowered you. And what was with the mini groupie encirclement whilst you were see-sawing between the keyboard and your voice? Between the song, the keys and the people surrounding you, it's a wonder you even finished your minute and a half. I think I heard a *thunk* right in the middle of that mess.

Lil Rounds
Lil hasn't done anything for me since the Hollywood rounds. It's been all downhill for her since then. And this was a stinkfest. Disney could use this performance if they ever need to revamp some of the eerie wails in the Haunted Mansion attraction. Move over, Hitch-Hiking Ghosts.
Adam "Screaming Mimi" Lambert
Look. I don't believe Adam's gonna win this thing in the least. He tries too hard. He shrieks most of his songs. And he doesn't embody an "American Idol," I don't care what anyone says. Thing is, though, I found myself doing everything I could possibly do to find something not to like about his performance last week. But I couldn't … I just couldn't.
Thankfully, he was "back in form" this week. Ghastly! This one wasn't anywhere near his "Ring Of Fire" catastrophe. (Seriously, Adam: Johnny rose from the dead right in the middle of that performance and he's looking for you at this very moment.) But let me tell you (in the best intentions of "Play That Funky Music"): I laid down. And not with the Boogie, either. But, inside, I think I did die a little. I pictured George Clinton from Parliament Funkadelic coming off stage and pummeling him with Ryan Seacrest.
And the thing is: Everyone loved him! The judges have finally imploded, it seems.
Kris Allen
In comparison to Adam, you want to hear a voice behind a good song? Well here it is in Kris Allen. He mixed it up and made it his own. And it weren't too shabby, Bobo. I felt that one, right down to the huffs and puffs breathed into his microphone.
The results show should be fun. Especially if Kara comes out even paler.
P.S. And what in the world?!? Paula's face was dripping! And it was pulling her hair right along with it, too! Really! Go back and take a gander! *Zounds!* She was fantastic … !!!
Photo Credit: gambling911