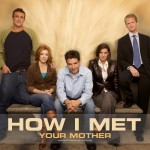 Okay, so the pun made me phrase it this way. The truth is, it's more like Rules of Engagement has stumbled upon the groove that How I Met Your Mother so comfortably resides in. Or, I could just be imagining things. Either way, I really like both of these shows, and, judging by the numbers, a lot of people do too. If we could crossbreed the audiences? Besides some messy DNA breakdowns, we might build a huge fan base for each show that will guarantee their survival for years to come (and hopefully wipe the "most popular comedy" tag off of Two and a Half Men).
And now that I have this topic bouncing around in my head, I'm seeing millions of little points of similarities. First of all, their respective premises. How I Met Your Mother is a story about how a guy (this week's Family Guy totally called the show on Bob Saget being the adult version of adult Josh Radnor!) met his kids' mother. We assume she's still his wife, though, interestingly, I don't think Ted's ever said as much. Rules of Engagement's about marriage as well. Sure, a lot of it concerns the pitfalls, but for four seasons, Ted's been tripping over himself looking for Ms. Right. I'd call that pitfalls as well.
Both shows take place in New York City. Not so unusual, but I needed to say it. I can't wait until we move back home!!!
Both air on CBS. Now bear with me here for a moment, because I know that their network could be misconstrued as being insignificant. But, in the case of the Eye and comedy, don't be too quick to judge. We've all seen the procedural discussed ad nauseum; that's CBS's sweet spot. The comedy is an animal that the network rarely tangos with. When it does? Generally, it's something special. Love them or hate them, CBS has seen recent success, longevity, (and some awards) with shows like The Nanny, Everybody Loves Raymond, The King of Queens, Two and a Half Men, and The New Adventures of Old Christine. The Big Bang Theory is an up and comer (shudder), while shows like Worst Week (brilliant!) and Gary Unmarried (kill me now!) struggle to find their groove.
How I Met Your Mother has found its groove. I'm confident that, particularly here at CliqueClack, I don't have to sing its praises. Well, Rules of Engagement has the same intangible that all of the aforementioned successful shows do. And with consistent top 20 numbers this season, its proving that all on its own.
But enough mumbo jumbo; to the crux! The characters:

Barney and Russell: Point of Order for you: Barney rules. There's no contest happening here, no rivalry forming, but Barney wins before we start. Got it?
I've watched both of these shows since their respective premieres. I've seen most all episodes at least twice. But never had I though of  comparing these two very different characters until recently. I was cleaning up my VHS tape records (Rules of Engagement regularly bumps up against two TiVo shows and needs to be taped on my VCR), when my eye caught the names of some of the episodes written there. This particular tape had a How I Met Your Mother episode as well, specifically "The Stinsons", while Rules of Engagement's offering was entitled "Russell's Secret". And then it hit me: these guys have a lot in common!
I mean, this isn't even my point, but the actors themselves share some commonality as well. David Spade may have made his bones on Saturday Night Live, but his sitcom characters (like Dennis Finch on Just Shoot Me!), and his roles in cult favorite comedies (Black Sheep, Tommy Boy) are what define his career for me. Do I even need to tell you how that compares to Neil Patrick Harris?
But to Barney and Russell. Both past their prime (Russell more so) on the dating scene. Both unbelievably sleezy womanizers. And yet, both loyal friends when it counts. Both are hilarious, and can steal a scene at the drop of a hat. Barney is classy, well mannered, cleverly witty. Russell's a dirty animal who takes the low road of comedy. But he's a lot smarter than he seems. And Barney's a lot more crude than would appear. Would the two be friends? Doubtful. But the competition between the two for the ladies would be legen … wait for it….
Ted and Adam: Interesting choice, right? Ted's the lead, while Adam (Oliver Hudson) is more of a supporting character to Jeff (see below). I'll tell you why this works. Ted's searching for love. He's a little more disheveled than Adam, but he still has a clean cut, put together thing going on. And both are in the market for love.
Sure, Adam's engaged to Jennifer. But, he hasn't found "the one" yet. At least not in my mind, since I can't stand Jennifer (see below). But, more to the point, he's a romantic. Adam's manly side is more evident than Ted's, but both appreciate how important love and companionship are in life. And both are funny. Not over your head, or in the gutter, but middle of the road funny that gets you every time. Adam can even be as dry as Ted.
And both use way too much product in their hair. Hey, it's a similarity!
Marshall and Jeff: Okay, here's where I'm nervous about insulting Jeff by comparing him to Marshall. So, let's be clear: I'm talking Marshall circa seasons one and two, not Marshall after Jason Segel started landing movies and lost the funny. Now, he's primarily a bit of an annoying dufus. Then, he was a solid member of the ha ha family on the show. Marshall could mix it up with Ted, and his slap-bet storyline with Barney was easily one of the funniest things I've ever seen on TV. What happened?
There's no question, however, that Jeff's hilarious. You could argue that from David Puddy to Jeff, Warburton has simply crafted one character. And, so? He's money, and he consistently clicks everywhere he's decided to stop during his career. Not only that; the pairing of Jeff and Audrey is perfect! For negative reasons, the same is true for Marshall and Lily, but Jeff and Audrey are brilliant. The banter, the interplay … all a very realistic, and highly entertaining, picture of marriage after more than a decade. With no kids.
Robin and Audrey: Tough comparison, because Robin's (Cobie Smulders) a marriage hater and Audrey (Megyn Price) merely hates who she's married to (I jest). Here, the similarities lie more in the skills of each actress to portray strong, funny, driven, intelligent women. As flighty as Robin can be, she has a mostly clear idea of where she wants to be in life. While I think she's incorrectly equated marriage and family with career diversion, she certainly has her eye on the ball.
Audrey, too, has somehow lost sight of how kids can enhance life. Not that she doesn't want them; she just doesn't have any yet. And that decision originated with Jeff and Audrey's focus on their marriage and their careers. Now that they're ready, they're not so sure that they're able.
But to Robin and Audrey's credit, neither one has her life dictated to them by anyone else, man or woman. And both of them have great sparring partners on their respective shows. Robin and Barney play off one another to a "T", while Audrey zigs with Jeff, and zags with Russell. Price is a brilliant comedian.
Lily and Jennifer: Last, and least, the losers. Both characters give me a headache. I've yet to see one Lily (Alyson Hannigan) storyline (save for the slap-bet incident) where she's been either funny, or shown an ability to act. And it's not because all I hear coming out of her mouth is, "This one time, at band camp…."
And Jennifer (Bianca Kajlich). Oh, Jennifer. So slutty, and yet so unappealing. Her being a bit of a floozy just doesn't really make so much sense. She sticks out like a sore thumb in the group (except for with Russell, and the two don't really get along), and she makes no sense for Adam. She's like Dharma to his Greg (hey, I hated her too!) … maybe that means that Hudson has a future like Gibson. Very cool. But Jennifer? Not so much.
And there you have it. Now, I'm not going to end by throwing this out to you to decide (partly because we're not competing here. You and your taste for blood!) Sorry. Experience tells me that Rules of Engagement doesn't get the reception it should, except in the ratings. That's cool. Instead, here's some homework: watch it! Then, come back and report to us.
There'll be a quiz on it next week.
Photo Credit: CBS