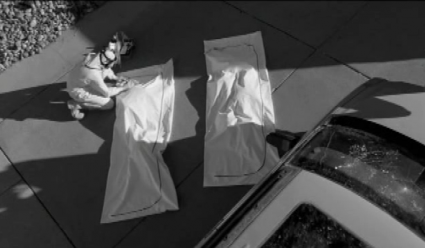 All season long we've seen the mostly black-and-white flashbacks to some sort of catastophe at the White household. Piece by piece, we've seen the evidence unfold before us, showing us with increasing severity the things that have gone down. In this week's episode, we see that things really appear to be more grim than we could have imagined, with the appearance of two body bags in the Whites' driveway.
I've got what I think is a reasonable theory for what happens to cause the death and destruction at the home, and it's not all that exciting.
Remember that, this week, we saw Walter going all Home Improvement on the house, tearing out and installing a new water heater and a whole lot of wood. As soon as I saw that new tankless heater, I knew it just had to be what eventually causes the house to blow up. However, while it fits with a few burned items floating in the pool, it doesn't account for why the house is still standing, nor why the investigators in these scenes are wearing hazmat suits and not fireproof suits, helmets and air tanks.
While Walter's impressive with the science, it doesn't mean he's a gifted carpenter or HVAC technician. This week we saw that Walter's on a mean streak, feeling tougher than ever and perhaps a bit indestructible. He stands up to his brother-in-law (who didn't really need standing up to in the first place) and, without fear, tells some encroaching meth makers to get the hell off his turf. And before all of that, he's killed a man and survived almost certain death in the desert. It's all a recipe for him being careless, which includes completely fucking up installing a gas-burning box in a closet.
The remaining question here: who are in those body bags? I'd rule out Walter right away, of course. Based on the size of them, unless the bags are filled with dismembered body parts, it could very well be Skyler and Walter Jr. I can't even begin to imagine Walter's state of mind after something like that happened.
Who else could it be, really? It's not likely Jesse would ever be near Walter's house, and Hank is too big to be in one of those bags. It's possible we'd find out it's a competing drug dealer out to take out Walter, but I feel like we would have seen that coming by now.
If I had to put money on it, I'd say it's Skyler and Beneke, who she's inevitably ready to get it on with. How they're killed — whether it's accidental or on purpose — isn't clear and won't be until we see it all go down. Got any guesses?
Photo Credit: AMC