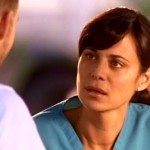 It's that time of year again: Army Wives is back. But, while the Lifetime franchise series has returned to the air, the women, and man, who make up the central group, are nowhere to be found.
I'm not talking screen time … each cast member was present for the season premiere. What I am referring to is, for lack of a better description, their souls. The premiere episode was a grave disappointment for many reasons, and I'm worried about where the show intends to go.
Before we go there, what is wrong with Logan (Paul Wesley)? I mean, seriously? The guy runs off to marry a sixteen-year-old girl? Forget about the fact that he's a private first-class and she's a Brigadier General's daughter; she's a sixteen-year-old girl! What the hell is he thinking? She can't marry him without her parents consent! Her claiming the ability to do what she wants doesn't make her an adult. In fact, it makes her exactly what she is – a spoiled, whiny kid.
Speaking of kids: the premiere picked up right where last season's finale left off, time-wise. Unfortunately, time did not stand still for the characters, and Roxy's (Sally Pressman) two sons have passed their cute window. Oh well; it was nice while it lasted.
But on to our favorite characters.
Claudia Joy (Kim Delaney) is lost. I didn't understand at all where she was coming from, letting Emmalin (Caroline Pires) kick and scream her way to getting what she wanted. If I was her, and the softy-come-lately Michael (Brian McNamara), I would have brought two MPs with me to escort Emmalin to the car and off to Brussels. What if she runs away once they're there? Okay. No big loss. Amanda (Kim Allen) was the good one anyway, though not speaking for the character, but rather in relative terms.
Denise (Catherine Bell) got what was coming to her, not just because she started the whole thing with Frank (Terry Serpico), but also because she cheated on him. Separated, or not, she should not have been sleeping with someone else. She deserved to be fired from the hospital, and Claudia Joy should have slammed the door in her face. Claudia Joy may not have any idea how to raise her daughter, but she knows enough not to step out on her husband.
And, speaking of rebellious children, how in the world are things okay with Frank, Denise, and Jeremy (Richard Bryant)? He hit his mother! Is that really a forgive and forget offense? What, just because he's in Iraq, so let's not rock the boat? Someone needs to knock some sense into the writers.
Roxy's giving me nothing, letting herself get bogged down in a ridiculous situation with, what turned out to be, a con artist. But even  before Pamela (Brigid Brannagh) had her one big moment of the episode, I didn't understand how the street-smart Roxy could just take the guy's word for it that he was Betty's (Patricia French) nephew. Don't you think Roxy might have heard of him? It's like the show isn't even trying.
Roland (Sterling K. Brown) was so MIA that he is barely even worth mentioning. The writers lay the groundwork for him and Emmalin, for what? So that he could have a big scene, telling Claudia Joy that Emmalin was still grappling with her sister's death? Was that not clear already?
I don't know what's going on behind the scenes, but someone needs to do something fast. Army Wives had a ridiculously strong pedigree after only one season, but it's shedding its good will faster than Denise shed her clothing with her hospital buddy.
Someone needs to grab the reins, before the series becomes nothing more than a continuous Sunday night movie of the week. Please.
Photo Credit: Lifetime