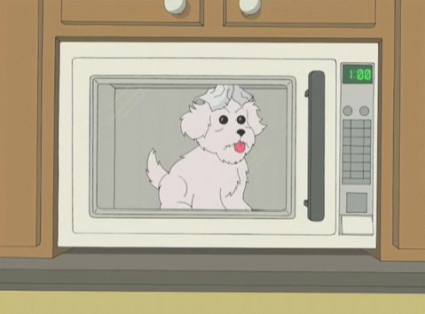 Last year Seth MacFarlane debuted a slew of webisodes on YouTube called his "Cavalcade of Cartoon Comedy," made up of short videos with many of the same voices and animation styles you'd find in hist much more popular show, Family Guy. Put all together, it reminded me of the shorts Robot Chicken produces, only in animated form.
Recently an "uncensored" DVD containing all of the webisodes was released (we had a giveaway for some copies not long ago), and I got a chance to give it a watch. I only caught a few of the videos up on YouTube, so it was great to get to see them all together in one sitting.
First thing's first: all you're getting with this DVD is the videos and an additional very short video of the red carpet release of the series. That's pretty much it. If that's what you want, and nothing more, then you're golden. However, I found most of the 50 videos not all that funny. In fact, I've picked the ten videos from the series that I found the funniest and I'll just mention them here (hopefully they won't be taken down from YouTube before you get to watch them):
The Frog Prince — Hey, wouldn't you give it a shot if you were a talking frog?
Mario Rescues the Princess — This made the rounds on the Internet months ago, and for any gamers out there, it's just great.
Beavers: Assholes of the Forest — I wonder what cats did to the animal kingdom to trump the beaver.
Things You Never Hear — Not all of these are gold, but there's a few belly-laughable ones.
Ted Nugent is Visited by the Ghost of Christmas Past — This might be my favorite of the bunch. The tone of his voice is dead on what I'd expect: "It's ghost. I killed it myself." Maybe you just need to know Nugent to get the joke.
The Bartender Says… — Overall silly, but it worked.
Die, Sweet Roadrunner, Die — Hasn't everyone wondered what would happen if Wile E. succeeded?
Sheep Shearing — Moral of the story: if animals could talk, it'd be damned disturbing, in more ways than one.
Mountain Climber — No clearer sign….
What Happens if You Feed a Dog Chocolate While he Wears a Tin Foil Hat in the Microwave — With a special cameo appearance by Wil Wheaton! Ah, the science and geekery….
So, if you like all of those videos and want to see more, all on one DVD, go grab it today. Other than that, enjoy what YouTube has to offer while you can.
Photo Credit: sethcomedy.com