The Week Ahead – Earth almost dies, Eureka, Entourage, and a tribute to Billy Mays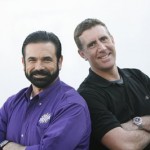 Where the hell have I been? How have you been watching television without me? I worked up this elaborate excuse to justify the absence of this column over the past several weeks including reanimated raccoon corpses and a bizarre Bollywood musical number but I burned myself on a smoke bomb and I feel too lame to lie to you all like that.
HIGHLIGHTS OF THE WEEK
Discovery's Pitchmen pays tribute to possibly the greatest pitchman of all time, Billy Mays, with a special on Thursday at 9 PM.
The rebranding of Sci Fi commences on Tuesday with Warehouse 13 debuting on "SyFy" with a two-hour bow. It's got two secret service agents re-assigned to a giant warehouse of mysterious artifacts, and they're charged with bringing in more.
VH1 debuts The Great Debate in daily fashion (Monday – Friday at 10 PM). The show examines such critical questions as Stones or Beatles, and Ginger or Mary Ann? And since it's VH1 that means talking heads arguing it out.
Since I've been gone (raccoons!), I didn't tell you about The Philanthropist, but it's actually a pretty good show so far. This week, Wednesday at 10 PM, Teddy (the good guy) takes on a sex trafficking ring and helps out Neve Campbell. Did I mention Neve was a cast regular?
They're back! Get ready for the new Big Brother onslaught with foul language, weird challenges and as little clothing as CBS can get away with. Night vision camera commences Thursday and Sunday (this week) at 8 PM.
It's a double dose of Samantha Who? as ABC picks up the pace to burn off the last of these episodes on Thursday at 8 PM. We might get two more later in the month and that's it.
Did youse not get enough of The Real Housewives of New Joisey. Did youse expect more yelling and high class broads. Bravo's got ya covered with "The Lost Footage" Thursday at 9 PM.
NBC follows up ABC's Impact, about an asteroid hitting the moon putting it on a collision course with Earth, with Meteor, about a meteor on a collision course with Earth. I guess pick your celestial doomsday body? (Sunday, 9 PM).
PREMIERES & FINALES
ABC Family is bringing Shakespeare to the small screen, and I mean that in the loosest way possible. Take a ten-year old teen movie based vaguely on The Taming of the Shrew and retool it for television and you get Tuesday's 10 Things I Hate About You at 8 PM.
NBC tries to succeed where The Amazing Race: Family Edition failed so miserably it almost killed the franchise with The Great American Road Trip on Tuesdays at 8 pm. Only now the challenges are considered "clever" and "funny." Eight families. One country. Shenanigans.
Also back are new seasons of Eureka (SyFy Fri. 9 PM), LA Ink (TLC, Thu. 10 pm), Ghost Hunters International (SyFy, Wed. 9 PM), I Survived… (Bio, Sun. 9 PM), and Entourage (HBO, Sun. 10:30 PM).
You do watch Fox Reality Channel's Battle of the Bods, don't you? It's basically a bikini contest on television. Setting women's rights back a few decades starting Saturday at 10 PM.
That's balanced by Lifetime's new series about a hot, skinny model being dropped into the body of a "fat" lawyer in Drop Dead Diva. We can learn about loving ourselves for who we are … or something (Sun. 9 PM).
All the answers will be revealed on the two-part finale of Harper's Island, which despite its flaws was pretty compelling summer television. (Saturday 9 PM).
Also ending, poor Eli Stone (ABC, Sat. 10 PM) and Welcome to Dreamland, BET's singing competition (Tue. 10:30 PM).
Photo Credit: Discovery