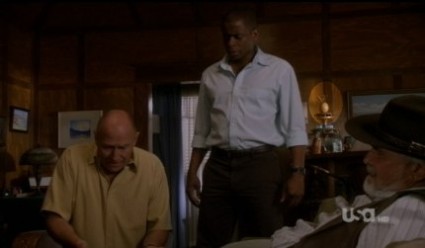 There aren't a lot of shows on TV these days that are just pure fun for every second you're watching. How I Met Your Mother comes close, and I think Glee and Modern Family might make the list this fall. Right now, though, we've got Psych — let's celebrate!
1. James Brolin as the sheriff was charming and hokey all at the same time. It's always good to see him in any capacity other than Mr. Streisand.
2. Jim Beaver — OK, so he wasn't Bobby Singer, but any Jim Beaver is good Jim Beaver. That almost sounds dirty….
3. The long version of the theme song — I'm hoping they don't do that every week and I've just been fast-forwarding through it.
4. The title of the episode, "High Noon-ish," just tickles me.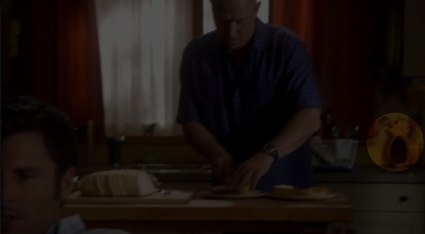 5. The controversy of tonight's pineapple hunt — So on the built-in shelves at Shawn's dad's house, there is a wooden pineapple ornaent. So Keith immediately went to the website and entered the contest, only to find that the answer was that the pineapple was on the counter at the dad's house, as pictured here. But surely, you agree with us that the pineapple ornament in the top picture is a much better answer, right?
6. Lassiter's nickname was Binky. That's Psych gold, people.
7. "If this turns into Blazing Saddles, I'm outta here." – Gus
8. "Those things don't work out here. We got no TVs, no radio, no refrigerators." – Sheriff
"Sounds like prison, except they have all those things." – Gus
9. "How about you kiss my blacksmith ass?" – Gus to Shawn
10. "While you two are sitting here playing cowboys and idiots…" – Lassiter to Shawn and Gus
11. When the building falls on Shawn and Gus, they shimmy together so they were in the window space. Laughs ensue.
12. Shawn calls Gus Winston Zeddmore. You know, the black guy from Ghostbusters.
13. The coccyx discussion, when Gus fell down the mineshaft and landed on his coccyx. Now that was most definitely dirty.
14. There is never a bad reference to Shawshank Redemption, but when "get busy living or get busy dying" accompanies a dirty spoon, a mineshaft and a neurotic not-Morgan Freeman, it's got to be on Psych.
Did I miss your favorite moment?
Photo Credit: USA