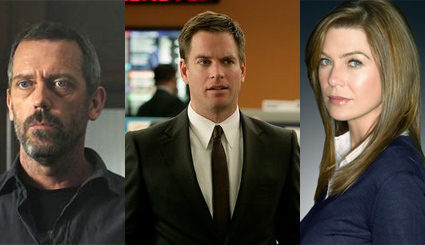 Holy smokes. After a summer without a lot of numbers to really be excited about, last week was just stuffed to the gills. There were season and series premieres everywhere, bringing in ratings that ran the gamut from outstanding to horrible. The big winners were House, NCIS, and Grey's Anatomy. On the other end of the scale? The Beautiful Life, Brothers, Dollhouse, and just about all of NBC.
FOX - We'll start here, as they had the best — and worst — ratings story of the week. Things got off to a great start with the two hour return of House (17.13m/6.7). It was just edged out in viewers by Dancing With The Stars, but tied with Grey's Anatomy for the best demo of the week.
The middle of the week was what I would call successful. No records set, but no real damage done. Hell's Kitchen (6.78m/3.2 – 6.98m/3.5) held strong, despite facing DWTS and the NCIS tandem. So You Think You Can Dance (5.5m/2.5) and Glee (6.64m/3.1) were close to last week, even with one time appearance of DWTS. And Bones (9.11m/2.8) remained solid against the premiere of FlashForward. Fringe (5.73m/2.3) did fall to a series low, but it remains to be seen how much of that had to do with the dueling premieres from CSI and Grey's. This week should be much more telling.
And then, there's Friday. Brothers (2.82m/1) got off to a horrible start, placing a distant fourth in viewers and tied for fourth in the demo. However, it did do better than Dollhouse (2.56m/1). Seriously, that's horrible. Some people were quick to go to the excuses on that one, noting that DVRs will be a big deal, and there is revenue from streaming and iTunes to think of, etc. I'm quick to say: fuck that. The premiere was down over 30% in viewers and demo from the season one averages. And the season two premiere is down 50% in the demo and 44% in viewers from the season one premiere. There aren't enough DVRs in the world to not make those numbers horrible.
CBS - While House and Grey's tied for the week's demo crown, the most watched show was NCIS (20.6m/4.8). That kicked off what was a great Tuesday night, also featuring the premieres of NCIS: LA (18.73m/4.4) and The Good Wife (13.71m/3.1). Earlier in the week, Monday was also successful. How I Met Your Mother (9.09m/3.6), Accidentally On Purpose (8.91m/3.3), 2 ½ Men (13.63m/4.5), Big Bang Theory (12.96m/4.7), and CSI: Miami (14.2m/4.3) all performed well. Two things to note: I'm not convinced AOP is going to maintain those numbers, and things are looking very good for Big Bang Theory becoming the #1 comedy on TV this season.
The only real stumble of the week came Wednesday, with Old Christine (7.17m/2.2) and Gary Unmarried (6.86m/2.3). Both were on pace with last season, but it does remain the weakest hour on the CBS schedule, and you have to wonder how much longer the experiment is going to last. Things picked up again at 9, with Criminal Minds (15.84m/4.4) and CSI: NY (15.06m/4).
Thursday brought Survivor (11.66m/3.7), CSI (16.01m/4.1), and The Mentalist (15.07m/3.6). Surprisingly, Survivor was actually up for the week, even while finishing second to the FlashForward premiere. I would expect it to be back to number one in the hour before too long. It will be interesting to see what The Mentalist does facing Private Practice instead of the extended Grey's.  Finally, as has become the norm, CBS easily won Friday night with Ghost Whisperer (8.58m/2.2), Medium (8.78m/2), and Numb3rs (7.92m/1.8). For the record, that Medium viewer number is higher than every non-football hour on NBC for the week.
ABC - Dancing With The Stars led off the first three nights, and proved that, while down year to year, it's still a huge draw on Monday (17.79m/4.1), Tuesday (15.37m/3.5), and Wednesday (15.36m/3.3). Castle (9.27m/2.3) and The Forgotten (9.54m/2.6) both took advantage of the boost, and landed in second place. The real winners in the DWTS sweepstakes though, were Modern Family (12.61m/4.2) and Cougar Town (11.28m/4.4). We'll have to see what happens when Hank and The Middle enter the picture, but it could be then end of the ABC comedy black hole. Eastwick (8.5m/3) followed, also putting up decent premiere numbers.
It wasn't the highest rated show of the week, or the night, but the most impressive premiere might have been FlashForward (12.47m/4). It won the hour against Bones and Survivor, which is no small feat. That led to the huge return of Grey's Anatomy (17.03m/6.7), which totally dominated the night.
NBC - The good news is that Sunday Night Football (24.82m/9.8) is still huge. The bad news, is pretty much everything else. To give an idea, not only did Medium have more viewers than everything but football … the most viewed series of the week (Mercy (8.38m/2.3) was below every new episode on ABC. Yikes. Heroes (6.11m/2.8) didn't do very well kicking things off. The Biggest Loser (7.56m/3.1) was better on Tuesday, but is down a fair bit from where it finished in the spring.
Mercy (8.38m/2.3), surprisingly enough, was the most watched show on the network, and that was with the one-time appearance of DWTS. Law & Order (8.36m/2.5) followed, and did increase the demo, but the premiere was off a good two million viewers and a full demo point from what it was regularly doing last season.
There was one more bright spot on Thursday, with The Office (7.46m/3.9). Holding at nearly a 4 in the demo against the CSI and Grey's premieres is great. Unfortunately, the rest of the Thursday comedy block is imploding. SNL (4.54m/1.7), Parks & Recreation (4.09m/1.8), and Community (5.39m/2.7) were all off. Did the Grey's and CSI premieres sink Community? Or did people get a look last week and not come back?
Friday, Law & Order (6.29m/1.3) got off to what was a slow start, placing third in the demo behind Ghost Whisperer and a repeat of FlashForward. And Leno? The week averaged 5.98 million viewers and 1.9 in the demo. That's not great, but good enough for the network, given the costs. The real story will be told when the show goes up against repeats.
CW - It was a bit of a mixed bag this week. One Tree Hill (2.29m/1.1) actually stood up well to the premiere of House. Gossip Girl (1.97m/1) didn't. The good news is, of course, that Gossip Girl won't be facing House after this. So it looks like that schedule change is already working out.
Tuesday remains an issue as the weakening 90210 (2m/1) leads in to the sinking Melrose Place (1.44m/.8). Heather Locklear can't show up soon enough. The news was slightly better Wednesday, with Top Model (2.82m/1.3). That made for the second best hour of the week for the network, but Top Model does remain curiously down year to year. Still, that was worlds better than The Beautiful Life (1.05m/.5). That's so bad that the show has been canceled.
The night of the week was again Thursday, as Vampire Diaries (3.79m/1.7) and Supernatural (2.66m/1.2) remained relatively steady despite the premieres from FlashForward, CSI, and Grey's. The news was also good for Smallville (2.5m/1) on Friday. Those numbers are well below what the show was doing on Thursday, but also an improvement over last season's Friday lineup. And really, the show should be knocking Fox into last place sooner, rather than later.
Finally, a few cable numbers from the week.
Mad Men (1.57m/.6)
Curb Your Enthusiasm (1.12m/.5)
Bored To Death (1.03m/.5)
Entourage (1.83m/1.1)
Drop Dead Diva (3.06m/.9)
Army Wives (3.28m/1)
Warehouse 13 (2.23m/.7)
Photo Credit: FOX; CBS; ABC