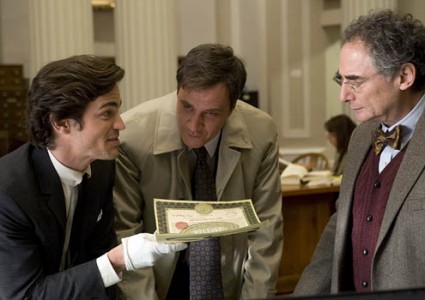 I'll be honest: I'm feeling a little apprehensive about singing the praises of White Collar too loudly, for fear of being disappointed were this show to somehow fail (plus Kona's got that covered). Not that I imagine it will, but I've been burned before.
The truth, however, is that I'm not sure it's possible to oversell this tremendous new entry into the USA Network family. Besides how well it fits into the group, it's just a really great show. I enjoyed it so much that I sat down to write this review of the pilot as soon as I finished writing my preview of the show, almost two weeks ago. So let's get right down to it.
Whether or not we can believe that Neal Caffrey (Matthew Bomer) actually could have ordered a guard's uniform online using the warden's wife's American Express, reformatted a swipe card to make a prison key card, bought a yellow jacket to perfectly match an airport valet (they have those?), and whatever else, you have to admit that Caffrey's break from prison was a cool sequence. And it put me in a really good place for the episode. I enjoy when shows involve creative thinking, like Burn Notice — not so much on our end but on the part of the characters. It also told us a little bit about how Caffrey's mind works, which is important going forward.
Peter Burke's (Tim DeKay) intro was a little rockier, because it wasn't 100% clear that he was in the midst of chasing a nefarious criminal. I still don't quite understand what lead they were following at the vault, and it seemed a lot like a training exercise until the whole fiber thing became an issue. But he definitely knows Caffrey's mind, and I think that's going to make things really interesting.
I touched on the supporting characters a bit in my preview, but for the episode review they deserve another mention. Again, I don't get what Burke did to deserve Elizabeth (Tiffani Thiessen) — and that from a Kelly Kapowski fan. I like who I think her character is going to be in Burke's relationship with Caffrey, but she felt very off to me.
Diana (Marsha Thomason) is great, and I got an early McGee (NCIS) vibe from her, which is cool. I think it'll be interesting to see her work with Caffrey, as I think the younger generation of agents is likely to be less impressed with the skills of a con artist.
I hope they have plans to substantiate Caffrey's need for Mozzie (Willie Garson) a bit. An old friend I get, but if he was plugged in enough while in prison to stay current on the new paper being used for Canadian bonds, Caffrey should know some of these other things, too.
I think it's a good idea for Caffrey and Burke's professional relationship to cross over into a personal life management sort of a thing, as it did a little bit in the pilot. The show would suffocate if 9-5 they were on, and 5-9 they had nothing to do with one another. And so I also like that Caffrey and Elizabeth will have a relationship — another reason it's critical to dump Tiffani Thiessen pronto.
Some other stuff:
This was broached, but not clarified: how did Caffrey stay current in prison? We're not talking about news here … it's a little scary to think that convicts can use jail as a research opportunity.
I'm still not seeing exactly why Burke would agree to let Caffrey out. Carl Hanratty needed Frank Abagnale Jr. (Catch Me If You Can) because check kiting was a new thing at the time, but Burke was good enough to corner Caffrey, so isn't he up to the task with his team?
I get why Caffrey turned his nose up at his "hotel," but he was just in prison! I mean, kudos for making other arrangements, but what did he expect from the federal government?
How the hell did Mozzie repackage that cigarette filter? Seriously.
Vacationing in a villa in Belize that the Bureau seized from a narcotics trafficker sounds awesome! There's a cool island down there where the hotel is just a string of quiet huts on the beach … the downside is that the only entertainment around out of the water is miniature golf. But I'm sure they'll figure it out.
Is Kate (Alexandra Daddario) going to be significant because she's significant, or to give Caffrey more substance? Because while I'm curious about what to make of the picture and the man with the ring, I hope Caffrey's not chasing it down just to have something to do.
Finally, Burke gave Caffrey four years of servitude as a consultant at the end of the pilot. That either kneecaps the show's trajectory before it starts, or allows for the possibility that Caffrey's situation may change somewhere down the road. Will he get time off for good behavior? Be released on probation? In which case, when it's up to him to decide if he wants to continue the work, will he? Without Burke as a guardian, will he feel freer to return to his old ways?
Of course that could all happen regardless, but a kill date does add some drama to the mix. Regardless, in the meantime USA Network has just served us up another really great show. Very cool.
Photo Credit: USA Network