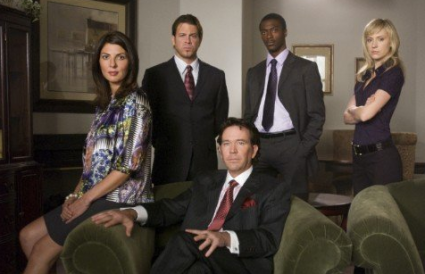 What happened to Leverage? Seriously, can someone tell me what the frak changed? The first season was incredible. Despite the fact that I'd been hearing about the production for some time leading up to its premiere, the show still managed to surprise the hell out of me. Brilliant chemistry amongst a (relatively) unknown cast, a quirky concept, and great writing made Leverage can't miss television, at least in my house. Then, Season Two happened.
The magic was gone. The acting was still stand out, the writing great, the situations zany, but for some reason, the show didn't have the spark that it did in the beginning. Unfortunately for us, things haven't necessarily changed for the better when the show comes back this January for the rest of the second season.
We find our reluctant heroes in pretty much the same place we left them. Sophie is still wandering the world, Nate a little aimless, Eliot still not given enough to do, and Hardison and Parker still aren't together. Oh, and Jeri Ryan's Tara is still around.  Which is, you know, OK I guess.
One assumes (hopes) the only reason that Sophie is still out of town has to do with Gina Bellman's pregnancy, because it's stopped working within the bounds of the story. As Keith tweeted when he watched the screener, the outfits and backgrounds they put her with are so unbelievable they're downright laughable. Once everyone, including Nate, started talking to her, they needed to come up with another reason why she's not a part of the team.
Maybe it is just time for the team to experience some change? Tara adds a different dynamic to the team, especially in her interactions with Nate. Now that the team has gelled, you really don't know where she fits in, and, more importantly, they don't know if they can trust her. Unfortunately, though, her addition in the two episodes I watched really didn't bring back the spark.
It's easy for me to blame Sophie's absence as the cause of things, but I'm not sure that is it. Her's is an important dynamic, specifically because she has a defined relationship with each of the characters (less developed with Hardison, but you've got to love her Parker, and Eliot too).
I think what the show needs, to steal some Buffy parlance, is a Big Bad. Mark Sheppard's Sterling represented that to an extent in first season, but the team truthfully needs a sinister adversary. They need to lose. They need to get hurt. And then? They need to get even.
Photo Credit: TNT