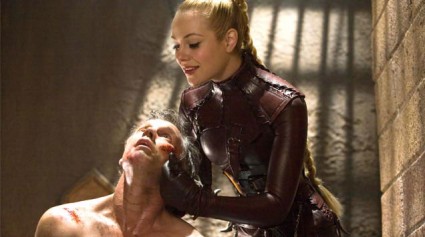 We last saw Denna in "Bloodline" after Kahlan (on Richard's orders) almost beat her to death. Although the writers have pretty much thrown Goodkind's books out the window with this story, I actually like their decision to keep Denna alive. The fans simply love the Mord-Sith, and who would say no to an episode like tonight's, which featured both Cara and Denna? The cast was smoldering hot.

All right, I have to ask this question, because we finally got to see Denna and Cara go head-to-head tonight. Which of the two is more awesome? You can define "awesome" any way you like — hot, kick-ass, whatever — but which of the two would you rank higher? I love Cara. She's deadly, witty, sardonic, and something of a lone wolf, but also naive. That said, I won't lie — Denna is my favorite Mord-Sith. Her history with Richard and her sheer badness have made an indelible impression. To me, she will always be The Mord-Sith, the one who epitomizes the red leather. (Weigh in by taking the poll below.)
Another character returned tonight. That is, of course, Dennee, Kahlan's little sister. (Hey … Denna and Dennee have nearly the same name. Haha.) I think the pieces of the story fit together nicely, but once again, Kahlan is no longer the last Confessor. I've given up any expectations about the show staying true to the books. Now, I'm just about enjoying the characters and the great production values.
Darken Rahl spent some quality family time with Richard in this episode. I know we've discussed the nature of the Underworld before, but this episode once again seems to suggest that everyone suffers in the Underworld — good and evil alike. Why else does Richard end up there in the vengeful hands of Rahl?
A few other notes on "Resurrection":
Darken Rahl's crimson robes don't look good on Richard at all. When he finally takes the throne, Richard needs to get some new clothes tailored in his own style.
Although I thought the explanation of the whisperer weapons was a bit cheesy, I loved the effect of the detonation, as well as the depiction of the deafening spell that Zedd cast. Very, very cool effects.
Denna will be back next week in "Light." I'm definitely watching. Will you be?
Photo Credit: ABC Studios