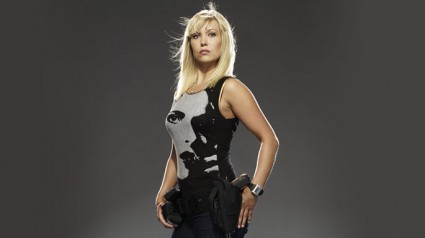 You know her as Helen Magnus's tough, blond, gun-wielding daughter Ashley, but did you know she's equally tough in real life? It takes a resilient spirit to deal with leaving a show and recovering from major surgery (tailbone-removing, tumor-wrapped-around-the-spine major surgery), but Emilie Ullerup has done that and is already making plans for a breakout 2010.

Going out with a bang
Last year, before shooting began for Sanctuary's second season, Emilie was called into a meeting with the show's executive producers. That meeting lasted an hour and a half. Ashley Magnus had been written out of the show, but the producers told Emilie that she would go out with a bang. The phenomenal two-episode arc they promised her became "End of Nights" parts 1 and 2.
When I ask Emilie what was behind the decision to kill off her character, she says she's still not sure. "It was a network decision. And, to be honest with you, I don't quite know why. I get a sense that the network felt that Ashley was not very liked and not one of the favorite characters." The network had determined from audience research that Emilie's character was not popular — but we may never know if this was at the heart of the decision to kill Ashley Magnus just two episodes into the show's sophomore season.
"As hard as it is, I always remember that it's just business," Emilie says. "It's not personal. It has nothing to do with me. I can't be angry at anything. I can be upset, and I can be disappointed, sure. But it's business." Because the decision came before they started shooting, Emilie had some time to process the emotions and then come to set, ready to work — ready to show them what she could do.
With blond hair, blue eyes, and a big smile, she rarely gets to play the villain, so the opportunity to become Bad Ashley appealed to her. "There are no rules, there are no limits to how big you want to go, how evil, you know?" she says. "I just had so much fun being on the other side. In those two episodes, it was everybody against me. And that was kind of an interesting way to leave the show too, because through it we dealt with a lot of the emotions. Because it was me and then everybody else, because I was leaving." She saw her final scenes as metaphorical for what was going on and decided, "I'm gonna go badass. We'll see what happens."
Though she relished Ashley's villainous turn, Emilie hoped to delve into other aspects of the character. "All her turmoil, all her angst, all her frustration with her mom, all of that would have been extremely interesting to explore," she muses.
Maybe she'll still get the chance to do it. Executive producer Amanda Tapping has said that the team has pitched a story for season 3 that would bring Ashley back. (Temporarily or permanently? For now, we don't know.) But Emilie has not heard anything yet. "I haven't been in contact with anybody. Still, I have read the same thing, and I have heard the same rumor. So, we'll see. If schedules permit, of course — I'm in this for the fans now."
When her character was killed off, Emilie feared what she might read on the Internet. "When you leave a show — I was very, very nervous that the forums would be extremely excited that Ashley was gone. I mean, you never know what people are going to feel," she says. "And seeing that it wasn't that way was really exciting. Because of this experience, there's a different relationship for me with the fans because — it's meant a lot."
The passionate outpouring from fans continues to amaze her. "I've had such great pleasure from reading how the fans feel, and there's been so much support. So for me, if they want me back on Sanctuary, and if I'm not busy with something else, I will be back on Sanctuary."
In the meantime, she enjoyed watching her fellow actors grow into their roles in Season 2. There's one guy in particular that she loves to watch. "Ryan Robbins is just doing superb work this season. He's so lovely to watch," she tells me, pausing to search for the right words. "He's so vulnerable and funny and strong, and Henry is just such a well-rounded, lovable character. … I just love the guy."
Things happen for a reason
In the fall of 2007, Emilie began feeling pain in her back. She ignored the pain for a year and a half. It turned out she had a tumor at the bottom of her spine.
"Life happens, and you just kind of let it go," she says. "After a year and a half, I was just so fed up that I went and got an MRI. They found it right away and tried to get me through the system as fast as possible because they didn't want it to grow any bigger."
For two weeks, her doctors didn't know if the tumor was cancerous or benign, and Emilie walked around with that uncertainty, not knowing what to tell her friends and family. Her boyfriend Kyle helped her through it, and her parents did their best to stay calm for her when they called from Denmark. But when her girlfriends freaked out, she found herself trying to assure them that she was not going to die. "There were moments of great frustration and fear and lack of control," she recalls. "I think those are very healthy things to be faced with once in a while — as long as you can get out of it okay."
The tumor proved to be benign, but it was aggressive, wrapping dangerously around her spinal nerves. In 2009, an extensive surgery removed the tumor, as well as Emilie's tailbone and half of her sacrum.
She's recovering steadily and is back in the gym, almost ready to start running again. Her positivity impresses me. To her, the whole experience was "interesting," a learning experience. "I wouldn't take it back, but I sure wouldn't do it again!"
She even points out that her departure from Sanctuary came at an ideal time. "Things worked out. I mean, at the end of the day, this surgery had to happen, and if I had to do an entire season of Sanctuary, it wouldn't have happened early enough, because I would have had to postpone it. So — things happen for a reason, and this allowed me to take five months off that I needed to get this done."
Photo Credit: Syfy
This Post Contains Multiple Pages: 1
2