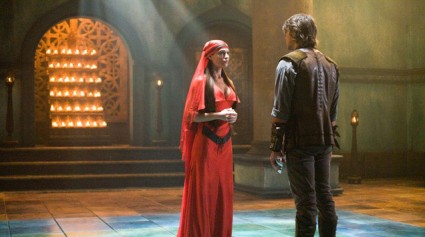 The Sisters of the Light kept me guessing this week. Were they evil, good, overzealous? For a while they kept Richard guessing too. I enjoyed seeing Richard's gift for ferreting out the truth highlighted in this episode. He observes little details, puts the pieces together, figures out what Sister Nicci's game is, and outwits both the Sisters of the Light and the Dark. That's why they call him the Seeker!

What did you think of Jolene Blalock's guest role as Sister Nicci? I've finally borrowed Stone of Tears and am just starting on it, so I don't have any preconceived notions about the character. From my perspective I think Blalock did an adequate job, though I wasn't blown away.
When Nicci feigns vulnerability and pretends to be afraid for her life, I found her kind of annoying. I thought, Come on, there's no way Richard's falling for that! When she's just being her evil self, she's more interesting, at times even reminding me of some of Angelina Jolie's roles. I think her best moment was her physical portrayal of dark ecstasy after Nicci absorbs Richard's power.
Another new character was introduced this week. That is, of course, the newly appointed Seeker, Leo. Although he's no Richard Cypher, I love Leo's scenes with Cara — especially their conversation about the chipmunks. It was so cute to see him coax a giggle out of the immovable Mord-Sith, and even cuter to see her smile secretly to herself. I'm looking forward to seeing what happens next week. Do you think the flirtation is going anywhere? I'm curious to know what you guys think of Leo. I want Richard back as the Seeker ASAP, but I wouldn't mind seeing more of Leo if it means more character growth for Cara.
Overall, I liked this episode, though it was not one of the best of Season 2. (The truth is, I've never disliked an episode of Legend of the Seeker.) Visually, every episode looks as good as a movie, and "Dark" was no exception. I missed seeing Richard wield the Sword of Truth — that was the biggest downer for me. Hopefully, next week will remedy that.
What did you think of "Dark?" Share your thoughts in the comments.
Photo Credit: ABC Studios