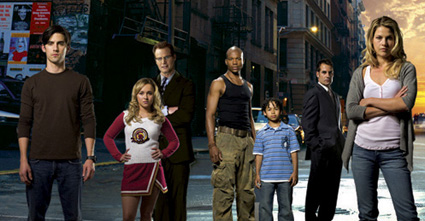 The complete implosion of Heroes just never gets old. I'm fascinated by it, and the show found an all new low last week. Over the years we've seen plenty of shows fall from their once lofty heights. But to see one crash so fast, and in such a dramatic fashion, is a rare thing. On a brighter note, the week that was also brought a host of premieres, including 24, Human Target, White Collar, Burn Notice, and American Pickers. And if you want to see some really crazy numbers, click through and take a look at what iCarly did.
NBC - The Golden Globes (16.98m/5.5) got the week started on a high note. That's not quite a Sunday Night Football number, but it's awfully close. Hopefully, it softened the blow that was to come on Monday. Chuck (6.65m/2.5) remains in fourth place. The fact that the demo held up from the premiere is a good sign though. Heroes (3.98m/1.8)… what can you say? There aren't enough DVDs, DVRs, or Hulu views to not make that number suck out loud.
To give a little perspective on just how bad the Heroes numbers were this week… On the four major networks, last week there were 47 shows that beat Heroes in viewers and demo, and that includes a boatload of repeats. Worse, the closest year to year comparison we can make is to February of last year (8.54m/4). The show has lost more than half its audience, again. And worst of all, more people watched Jersey Shore (4.83m) last week. Jersey Shore, people! NBC has a lot to do to pull the network out of its 4th place quagmire, but step one should be putting this show out of its misery.
Happier thoughts arrived Tuesday. The Biggest Loser (9.95m/4.1) bounced back when only having to face one hour of Idol. Unfortunately, the happy didn't carry over to Wednesday. Mercy (5.86m/1.4) continues to struggle. The NBC Thursday remains a mixed bag. You have to c0nsider Community (4.75m/2.1) and Parks & Recreation (4.36m/2) a disappointment. Not only are the numbers down (less than a million viewers ahead of CW), they were also beaten by Big Bang repeats on CBS. The Office (7.28m/3.7) was a bit off the pace, but I'll chalk that up to the episode being a clip-show. It's still worth noting that it was ahead of CSI in the demo. 30 Rock (5.54m/2.7) had a typical week. It won some more awards, and nobody bothered to watch.
FOX - It was a big week for FOX. American Idol, of course, led the ratings news with two more number-crushing outings on Tuesday (26.38m/10.1) and Wednesday (26.85m/9.9), which were both up year-to-year. The week also brought the premiere of Human Target (10.12m/2.9) and the return of 24 (11.44m/3.9) on Sunday. Jack followed up that debut performance with another two hours on Monday (11.11m/3.5). Those numbers are solid enough, and should make for a nice upgrade to Mondays.
Human Target got a second performance as well, with episode two airing in the regular slot on Wednesday (10.46m/3.4). Those numbers look okay, but you have to take into account that the show was following Idol. Expectations are higher. Last year at this time, Fringe (11.96m/4.6) and Lie To Me (12.37m/4.9) both did considerably better post-Idol. There was more good news on Thursday, as Bones (11.97m/3.5) was far and away #1 at 8. Fringe (6.9m/2.6) remains in 4th place, but continues to slowly grow, as do the chances for renewal.
CBS - Cold Case (10.62m/2.4) opened the week solo on Sunday, and remains decent, if not remarkable. Things were much more exciting Monday, with How I Met Your Mother (10.41m/4), Accidentally On Purpose (9.56m/3.5), 2 ½ Men (16.31m/5.3), Big Bang Theory (15.05m/5.3), and CSI: Miami (13.22m/3.6) combining to win the night in both measures. Tuesday was all repeats, but Jethro and the team at NCIS still managed over 14 million viewers.
Wednesday started slow, with Old Christine (6.21m/1.9) and Gary Unmarried (5.89m/1.8) continuing to just tread water. Business picked up at 9, with Criminal Minds (14.91m/4.2) and CSI: NY (13.54m/3.1) both topping their hours. Thursday, without the benefit of Survivor, CSI (14.29m/3.1) continued to slip, hitting a series low. I would really like to see what would happen to the numbers if William Petersen returned. The Mentalist (14.56m/3.1) was at series low levels as well.
ABC - Desperate Housewives (11.32m/3.8) and Brothers & Sisters (7.97m/2.6) didn't have a good go of it versus the Golden Globes. Both hours were down, but I suspect they'll rebound when not facing an awards show. Monday, The Bachelor (10.66m/3.8) and Castle (9.48m/2.8) were both up just a tad. Tuesday continues to be a train-wreck. Nobody is watching Scrubs (3.04m/1.3) and Better Off Ted (2.92m/1.2).
There was better news Wednesday. Modern Family (9.83m/4.2) and Cougar Town (7.54m/3.4) looked much better with Idol contained in the 8-9 hour. Ugly Betty (4.53m/1.6) on the other hand, hasn't found her audience at 10. Thursday didn't start that well either. The Deep End (7.11m/1.8) premiered well below what Flash Forward had been doing. The news was better for Grey's Anatomy (12.7m/4.7). That was the top demo of the night, but it was also a low for the season. Private Practice (9.64m/3.6) was solid at 10.
CW - Look at that. Somebody woke up the CW programming department, and they managed four new hours. Monday brought the usual numbers from One Tree Hill (2.18m/1.1) and a solid premiere performance from Life Unexpected (2.83m/1.2). The week continued on Thursday, with the return of Vampire Diaries (3.68m/1.6) and Supernatural (2.85m/1.3).
CABLE - It was a big week for USA. White Collar (4.72m/1.6) and Burn Notice (5.35m/1.9) both returned to the schedule at expected levels. It will be interesting to watch how the new scheduling works out as we get a few episodes into these runs. Last week was also the premiere of American Pickers (3.1m/1.2) on History. The crazy stat of the week for cable comes from iCarly (11.16m/1.8). I have no idea what Carly was up to last week, but 11 million viewers is always impressive on cable. Some other cable numbers:
Big Love (1.54m/.8)
Secret Life Of The American Teenager (2.97m/1)
Make It Or Break It (2.37m/.7)
Southland (1.61m/.5)
Nip/Tuck (1.89m/.9)
Leverage (3m/1)
Blue Mountain State (.92m/.5)
Archer (1.23m/.7)
Ax Men (2.27m/1.1)
Pawn Stars (3.64m/1.6 – 3.97m/1.8)
Dirty Jobs (2.13m/.9)
Man vs Wild (1.64m/.8)
Project Runway (2.71m/1.1)
Photo Credit: NBC