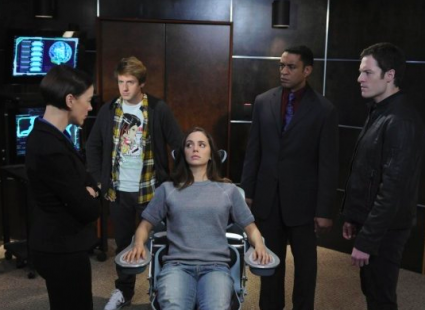 I have a theory. It stems from the fact that I cannot believe that anyone would watch and enjoy Lost willingly. I find it to be the most self-serving, inflated show on television. Sure, they've taught their actors to master the hateful glare and they bring the non-linear storytelling to an obnoxious level of annoyance (while still moving so slowly that it's painful), but beyond that I fail to see its merits.
I've been told it's gotten better since I dropped it at the beginning of season three, but I don't care. I have better things to do with my time then be dicked around by a TV show. If, by the end of the series, you all tell me the payoff is worth it, I'll rush right out and get all the DVDs and cook up some kettle corn and catch up … no, I really won't. Do you know why? I think each and every one of you that loves everything about Lost has been brainwashed.
Here's what I think has happened to the viewing audience. Joss Whedon's Dollhouse technology has been leaked to the ABC studios. All viewers of Lost have been imprinted with the ability to love confusing television shows that make almost no forward movement in plot, don't make sense and do it all with such a sneaky finesse that you believe you are watching quality television. That's right: you're all Actives and have received personality wipes in order to embrace Damon Lindelof's tainted vision of entertainment.
I know that it's true. As I sit on the couch next to Keith while he's watching Lost (and I'm working on my laptop painstakingly ignoring the TV), I can hear him mumble, "I try to be my best." He even called me Whiskey last night and tried to send me to The Attic when I said something negative about Sawyer's glare-y reaction to Juliet's death. Then, he instant-messaged Bob Degon, referring to him as Alpha. It's all starting to make sense now.
I'm wondering if I've inadvertently received the Dollhouse vaccine, making it impossible for me to be mind-wiped or imprinted, because I'm clearly immune to the charms of Lost. I hope that when Lost finally dies its deserving death this spring, that the world doesn't resemble "Epitaph One."
Photo Credit: FOX