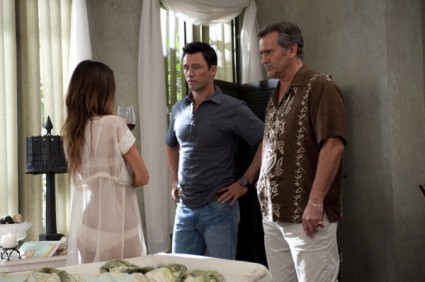 For purposes of full disclosure, I must admit the above photo wasn't integral to last night's episode of Burn Notice. I've included it for superficial reasons. Can you guess what they might be? No, I'm not in love with the pattern on Sam's shirt or that really cool medieval style lamp. I think ya know. Anyway, I really dug the latest installment of Miami Spies, and not just because Fi looked smokin' hot.
Where to begin? First I'm gonna start with this Gilroy chap. It's been nagging me to no end for the last three weeks because I was unable to identify who the actor who plays Gilroy, Chris Vance, resembled. Well, it finally hit me when he and Mikey had their sit-down in the hot tub. He looks kinda like Sting, the singer, who is also a fellow Brit. Take a gander: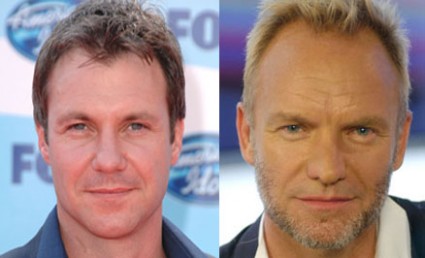 They could be friggin' brothers, in my opinion. I'm sure Vance can't nail the high notes like Sting, but he does make a convincing psychopath black operative.
Larry, the undead spy, was back, played with wackjob gusto by the always entertaining Tim Matheson. Shit got really dark between Larry and Michael, which made for an interesting departure from the normal madcap antics. I thought it was more than appropriate for both Fi and Sam to put their feet down when Mike started behaving like a douche.
I've always believed Mike is capable of committing heinous acts when his buttons are properly pushed. Good ol' Lar was tap tap tapping away as if Mikey was a keyboard. However, our numero uno spy guy saw the error of his ways before it was too late and even delivered a sincere apology to his buds for allowing the twisted side of his persona to take over. The ebullient smile on Fiona's face when Mike credited her for helping him become a better person was priceless.
Now, Mike is still getting his hands pretty damn dirty lately. His wits and ingenuity keep bailing him out of tight spots, but you gotta think with all the stress he's under he might slip up if he's not careful. Hell, he even got duped by Larry's cellphone trick. That could be a sign he's headed for more trouble than normal. As Michael said, when you're used to doing bad things for the right reasons, it's easy to get the lines crossed.
His involvement with Gilroy isn't going to cease the moral dilemmas. On the surface, Gilroy appears to be a sophisticated man who can control his emotions. Deep down he's bad news. Eventually he's going to grow tired of allowing Michael to dictate the terms of their relationship. Mike wants to please everybody while maintaining his own sanity. Safe to say, that's easier said than done in the spy game.
Photo Credit: USA Network