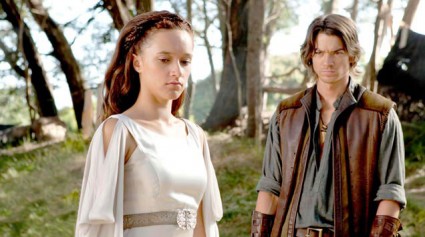 I was hoping for a grand confrontation between the Keeper and the Creator tonight — not a clip show in the guise of a "trial" episode. While we did get a little taste of that confrontation at the end of the hour, for the most part this episode revolved around Richard and his companions trying to convince the Creator (played by Oscar nominee Keisha Castle-Hughes, star of Whale Rider and The Nativity Story) that Richard is not an agent of the Keeper.
Tell me, does this make for exciting television?
Kahlan: So, Richard, remember when you did that one thing at that one village? Tell us about that.
Clip.
Creator: Oh yeah, well what about when you did that other thing at that other village? Tell us about that.
Clip.
Zedd: But that's nothing! What about the time when he did that thing at that other town? That was pretty awesome.
Clip.
Are you still awake?
The question of whether Maia is the Creator or just a pawn of the Sisters of the Light was the aspect of this episode that kept me interested. I'm happy that the writers didn't go the Star Trek route, which would be to prove unequivocally that the divinity in question is a fraud. Actually, while shows like Trek reject the divine in general, within the Seeker universe we've already seen that the Keeper and the Underworld are real. From this, one can assume that the Creator exists as well and is not simply a superstition or myth. Thus, the question is not whether the Creator exists but whether Maia is the incarnation of the Creator. Instead of doing the Trek thing and insisting that she's a fraud, the writers gave us an ambiguous ending. Maybe she is, maybe she isn't. That's the nature of faith — some things cannot be known, so you must choose what you will believe.
It's interesting that Richard refuses to believe in the prophecies, even though he's been to the Underworld and seen firsthand that there are other forces at work in the universe. Knowing that these forces exist, why is it so hard to believe that those forces can foresee or direct his path? I can certainly understand if his skepticism is directed primarily at the Sisters of the Light and not at the prophecies themselves.
So, what did you think of "Creator"? And did you like Keisha Castle-Hughes' performance? Do you think she really is the Creator? I liked her performance for the most part, although she seemed a bit wooden. As for whether she is the Creator, I have doubts but suspect that she is. I hope we'll see her again, because her history with the Keeper sounds intriguing.
Photo Credit: ABC Studios