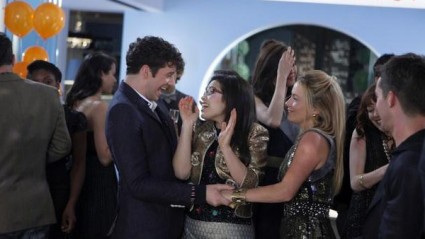 I have such bittersweet feelings after viewing the Ugly Betty series finale. This episode reminded me of why the character of Betty Suarez captivated me in the first place — I can relate to her so easily. In particular with this episode, I could relate to being worried about leaving my parents in order to take a great job (and having to deal with my dad's reaction, which was identical to Ignacio's).
I loved how careful the writers have been to tie up all the loose ends (such as the question of who Amanda's father is) and give us a chance to say goodbye to characters like Christina, Gio, and Henry. Pretty much everyone had a happy ending, except Halston. Most of what I hoped would happen actually did happen. Amanda got a new job as a stylist. Hilda finally found happiness with Bobby. Wili and Marc continue their partnership at Mode.
Perhaps Wili's ending was a bit too perfect. I'm glad that she was reunited with her dreamy Aussie and that her efforts to become editor-in-chief of Mode were finally rewarded, but I was a bit surprised at her becoming such a nice person after waking up from a coma. She is one of those characters whose charm lies in how mean and evil she is (like Sue Sylvester from Glee). At least, she and Marc were still mean enough to make one final fat joke about Betty. That's a comfort.
And, of course, I'm coming now to the big issue. As I wrote before, I wanted Daniel to fall in love with Betty at the end of the series. Let me expand on that. Initially, I was not in favor of this pairing. I thought the two of them would never work as a couple because they felt like brother and sister, and it was gross just thinking of the two of them together. They had so much chemistry as friends that I didn't want to see that destroyed by a romantic relationship. But in this last season, as Betty matured and became an editor, she began to relate to Daniel differently. They were on a much more equal footing, and their chemistry also evolved subtly and naturally to the point that they felt so easy together, like a couple that had been married for years and knew each other's quirks perfectly. I could finally see them together in a relationship based on love, friendship, and respect (not stupid romantic hooey).
Furthermore, I felt that this would be the perfect way to show that Betty had changed the definition of beauty. Daniel represented everything shallow about the fashion industry, so for him to see her as beautiful and attractive, it would mean that he had evolved and been transformed during her time at Mode.
If you've seen the finale, you know how it all ends. The writers, knowing that half of the audience would pissed if Betty did or did not end up with Daniel, tried to leave us with an open ending. Daniel comes to London to see Betty, and he plans to stay a while and take her to dinner. Okay … so for the people who want them to remain just friends, Betty is officially still single and unattached at the end of the series. For those who want Daniel and Betty together, there are strong hints that they may get together at some point in the future. It was a clever solution to a tricky problem.
But to be completely honest, it left me unfulfilled. I didn't need to see them kiss. All I hoped for was to hear Daniel tell Betty, "I love you," just once.
How about you? What did you think of the series finale? Vote in the poll, leave a comment, and let us know.

Loading ...
Photo Credit: ABC