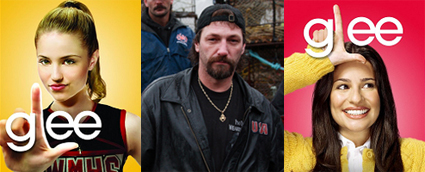 Over the years there have been numerous attempts to replicate Deadliest Catch. Whether it be logging, lobster fishing, or ice-road trucking, they all have come up short. And there's a simple answer as to why. Casting. With the Northwestern, Time Bandit, Wizard, and Cornelia Marie, the Deadliest Catch team has managed to find a perfect group of characters for viewers to invest in. They returned for an all new season last week to very good numbers. Over on the big networks, the big story was the return of Glee. The singing kids took full advantage of an Idol lead-in, leading all scripted shows in the demo.
FOX - Before the Glee kids could make their triumphant return, it was time to get Sunday back on track. The night looked much better with American Dad (5.13m/2.4) replacing Sons Of Tuscon after The Simpsons (5.64m/2.7), Cleveland (5.5m/2.7), and Family Guy (6.96m/3.4). House (10.8m/4) was also back, and down, but still solid. 24 (8.33m/2.5) fell into line with what we've come to expect.
The big news came Tuesday, with American Idol (20.64m/7.3) again #1 for the week. Glee (13.66m/5.6) took that ball and ran with it, managing the #1 scripted demo, and #2 viewer count. Wednesday, another Idol (21.02m/6.8) also looked good, but Human Target (7.24m/1.9) was down in its last original. Consider that one up in the air for next season. Thursday, Bones (9.92m/2.9) and Fringe (6.62m/2.5) both made small gains against a weak night of competition.
ABC - The week started slowly, with a two hour Brothers & Sisters (8.84m/2.5) not able to replace the Housewives numbers. Things picked up on Monday though, with Dancing With The Stars (20.56m/4.9) and Castle (12.68m/3) both winning their timeslots. That put Castle above CSI: Miami again, with comparable lead-ins. Tuesday, the DWTS Results (13.6m/2.8) were up a bit, while Lost (9.48m/3.9) remained steady. V (5.61m/2.2) continued to fall.
Wednesday's comedies remain a bit of a mystery. The Middle (6.7m/2.3) continues to yo-yo up and down, while Modern Family (8.88m/3.7) looks like a solid hit. Cougar Town (5.8m/2.5) seems like a show that is benefiting greatly from its scheduling. The night also brought the finale of Ugly Betty (5.41m/1.7) which was up in its last go. Thursday, the junk hit the fan. FlashForward just continues to sink. Last week the show suffered the deathblow of being beaten in the demo by the CW. As I said on twitter, "In Stephen McPherson's FlashForward he saw ABC's schedule for next fall, and guess who isn't on it." The week ended with Jamie Oliver's Food Revolution (4.09m/1.4) and 20/20 (5.53m/1.4).
CBS - The Sunday combo of Amazing Race (11.88m/3.4) and Undercover Boss (14.68m/4.2) is looking like something we'll be seeing again next season. Cold Case (9.86m/2.3) probably won't be joining them. That led to very curious results at 8 on Monday. Rules Of Engagement (7.36m/2.8) actually beat How I Met Your Mother (6.8m/2.8). The 9 o'clock hour made much more sense, with 2 ½ Men (13.71m/4.7) and Big Bang Theory (13.39m/5.1) both looking strong. CSI: Miami (10.78m/3) was down, but not out.
There were more comedy struggles to kick off Wednesday, from Old Christine (6.18m/1.7) and Accidentally On Purpose (5.9m/1.9). I'd be surprised to see that comedy block return next year. It just doesn't work. Criminal Minds (12.44m/3.2) and CSI: NY (10.85m/2.6) were both off the pace as well. Add in CSI (13.19m/3) and all three versions of the show are starting to show their age. We're not there yet, but we are now approaching a time where there is no CSI on the CBS schedule. The armor has been cracked. Earlier Thursday, Survivor (12.31m/3.8) remained at #1. The week finished up with Miami Medical (6.67m/1.2) struggling in a solo performance on Friday.
NBC - The novelty of Minute To Win It (4.59m/1.3) seems to be wearing off rather quickly. Celebrity Apprentice (6.73m/2.6) does remain a decent schedule filler on Sunday though. Monday, only Trauma (4.42m/1.3) was new, and that made for a very bad night. Things looked better Tuesday with The Biggest Loser (8.37m/3.3) taking advantage of a week off for the NCIS crews. Parenthood (6.28m/2.5) pitched in as well, topping the aliens on ABC. The rest of the week amounted to a SNL Special (6.75m/2.9) and the TV movie Secrets Of The Mountain (7.87m/1.4).
CW - There were few surprises from the CW for the week. Life Unexpected (1.8m/.9), Gossip Girl (1.86m/1), 90210 (1.45m/.7), and Melrose Place (1.09m/.5) were all where one would expect. Next Top Model (2.85m/1.2) broke the string, falling below 3 million viewers for the first time this cycle. Fly Girls (.9m/.4) and High Society (.77m/.3) remain a disappointment. Things were back on pace Thursday, with Vampire Diaries (3.15m/1.6) and Supernatural (2.45m/1.2). As mentioned earlier, Vampire Diaries beat FlashForward in the demo. Smallville (1.84m/.7) was off a bit as well to wrap the week.
CABLE - In addition to the return of Deadliest Catch (4.59m/2.1), the week also brought the premiere of Treme (1.13m/.4) on HBO. That number might seem low for an HBO series, because it is. No matter though, it's already been renewed, after just one episode. The suits at HBO have already seen 9 episodes and they're so in love with it that they are comparing it to The Wire. That's awfully high praise. Other cable numbers:
Premium
Nurse Jackie (.68m/.3)
United States Of Tara (.4m/.2)
The Tudors (.88m/.3)
The Pacific (2.71m/1)
Basic
Breaking Bad (1.46m/.6)
Damages (.76m/.2)
Saving Grace (1.8m/.4)
Army Wives (3.32m/1.1)
Justified (2.4m/.9)
L&O: Criminal Intent (3.22m/.9)
In Plain Sight (3.15m/.8)
Suite Life On Deck (2.73m/.4)
10 Things I Hate About You (.75m/.3)
Sonny With A Chance (3.17m/.5)
South Park (3.33m/1.9)
Ugly Americans (2.05m/1.1)
Life (3.98m/1.4)
Pawn Stars (4.2m/1.7)
Kendra (1.8m/1)
Ax Men (2.47m/1.1)
Mythbusters (1.87m/.8)
Ghost Hunters (2.15m/1)
Project Runway (2.98m/1.1)
Photo Credit: FOX/Discovery