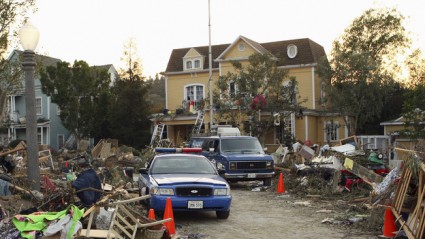 With previews suggesting that on the season finale of Desperate Housewives a bomb may be detonated and a teenage serial strangler — who has already killed his own mother, as well as several others — has taken the pregnant Lynette Scavo hostage and may have sinister intentions toward good old Lynette, it might be about time that we re-think this whole notion that Wisteria Lane is a great place to raise one's family.
Just this season alone, an airplane crashed onto the Lane in the middle of a neighborhood Christmas event killing Karl Mayer and paralyzing Orson Hodge, several women have been strangled to death in the town of Fairview (Julie Mayer survived a strangling which occurred when she was taking out the trash) and Nick Bolen was the victim of a hit-and-run, one of several hit-and-run victims from Wisteria Lane over the years.
After combing through the six seasons of Desperate Housewives, I've reached a (rather obvious) conclusion: Wisteria Lane may be one of the most dangerous (fictional) streets in America. (And Fairview's no prize either.) Here's a list of some of the mayhem that has befallen inhabitants of the Lane and the surrounding area of Fairview in which the Housewives live, work and play:
Assaults/murders/hit-and-runs/poisonings:
— Mary Alice Young killed the biological mother of the child who Mary Alice was raising. The dead woman's body was put in a toy chest in and buried in Mary Alice's Wisteria Lane back yard.
— Edie Britt tried to avoid hitting Orson Hodge with her car and got into a car wreck which ended with her getting electrocuted by the downed power line.
— There've been seven stranglings, six fatal. Martha Huber was strangled by Paul Young. Dr. Heller was strangled by Dave Williams. Irina, Barbara Orlofsky, a coffee shop waitress and a prostitute were strangled to death by Eddie Orlofsky. Julie Mayer survived Eddie's attempt to kill her.
— Katherine Mayfair was accidentally shot by Susan Mayer when Katherine was lurking outside of Susan's house at night.
— Two men were seriously hurt in hit-and-run accidents. Orson Hodge ran down Mike Delfino, who then went into a coma. Patrick Logan ran down Nick Bolen.
— Juanita Solis, Carlos' mother, was put into a coma after Andrew Van de Kamp hit her with his car and he fled the scene.
— Orson Hodge was drugged by his mother so his ex-wife could sexually assault him.
— Bree Van de Kamp Hodge was drugged by her mother-in-law, Gloria Hodge, who'd planned on staging Bree's phony suicide.
— Rex Van de Kamp had a fatal heart attack after the local pharmacist, George Williams, had been messing around with Rex's heart medication.
— Katherine Mayfair shot and killed her abusive ex-husband Wayne Davis in her Wisteria Lane living room after he'd held her hostage and was threatening her.
— Matthew Applewhite, who was holding his girlfriend Danielle Van de Kamp's mother at gunpoint (after it was learned that Matthew had previously killed a teen girl), was shot by a police sniper through the Van de Kamps' living room window.
Other deaths:
— Mary Alice Young committed suicide.
— Alma Hodge, Orson's ex-wife, accidentally fell off a Wisteria Lane home's roof.
— Handyman Eli Scruggs had a heart attack on top of Susan Mayer's roof after working on it for her.
— A mother and daughter — Lila and Paige Dash — were accidentally killed in a car crash.
— Karl Mayer died after being struck by a small aircraft which crashed on Wisteria Lane.
Disasters (natural and man-made):
— Both Edie Britt's and Susan Mayer's homes burned down. Edie's in an accident, Susan's on purpose.
— The Scavo twins set Rick Coletti's restaurant on fire.
— After Dave Williams killed Dr. Heller, he started a fire in a nightclub storage room.
— Orson Hodge was paralyzed during the Wisteria Lane plane crash.
— A massive tornado killed Ida Greenberg, Adam Mayfair's former patient and Gabby Solis' second husband Victor Lang who, while fighting with Carlos Solis, was impaled in the chest by a flying picket fence post. Carlos was blinded after getting hit on the head during the storm.
— Two families' Wisteria Lane homes — Bree and Orson's, Karen's — were seriously damaged by the tornado.
Can you think of anything else I might have missed?
Photo Credit: Craig Sjodin/ABC