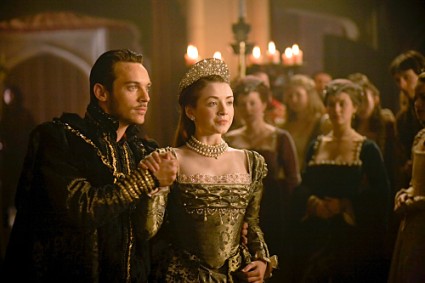 Jonathan Rhys Meyers is The Tudors. Can you imagine the show going on without him? I know it's over, and next year we'll meet a new royal family in The Borgias, but theoretically speaking, could the show survive without its most compelling, central character, Henry VIII? Would you want it to?
Let's imagine how it might play out. The first half of season five would feature little King Edward being manipulated by his uncle, Edward Seymour, and dealing with all kinds of adolescent issues as he gradually grows into a teenager. Edward might actually become a character instead of a cute, curly-haired moppet that bows and recites formal greetings to delight the ladies of the court. The Duke of Northumberland would be the big baddie, and Mary's Catholic backers could be little baddies. A subplot that involves Edward being poisoned would fit right in here.
In addition to the requisite rebellions, there would be much Protestant-vs.-Catholic scheming and intrigue, resulting eventually in Lady Jane Grey inheriting the throne. (Just imagine the royal Tudor tantrum Mary would throw at this news.) I admit, the first half of this season could be quite boring, but I imagine that having great actors in the roles of Edward, Northumberland, and Lady Jane would help.
The second half of season five would kick off with Mary evading capture and rallying a massive army to take back the throne. I would totally dig seeing Mary at the height of her popularity. Sarah Bolger played one of The Tudor's most intriguing characters, portraying the Princess Mary with dignity and restrained passion. The character's evolution has been beautifully subtle. The empathy that we feel for her would make her gradual decline over the course of seasons five and six all the more tragic. Season six could explore her relationship with Elizabeth, her marriage to Phillip II of Spain (she loved him, but he didn't love her), her phantom pregnancies, and of course her Protestant burnings. As we ogle the train wreck that is Mary's reign, we can also watch Elizabeth grow into the woman who will outshine all the other Tudors.
I imagine the series ending with Elizabeth becoming queen at the end of the sixth season. We have plenty of shows and movies about Queen Elizabeth – I wouldn't care to see it done for the millionth time. Instead, I think it would be perfect to close with the last and greatest Tudor just beginning her reign.
I understand why The Tudors might not work without Henry VIII. So much of the show was about sex, and Edward, Mary, and Elizabeth didn't get too much, did they? Perhaps I am just being greedy, but honestly, four seasons never went by so fast! What do you think?
Photo Credit: Showtime